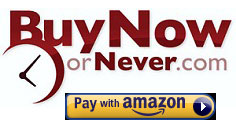 St. Louis, MO (PRWEB) April 25, 2013
Making a purchase on Buy Now Or Never.com is now quicker and easier than ever thanks to Checkout By Amazon. Buy Now Or Never.com customers can now use shipping and payment information stored in their Amazon account to purchase from Buy Now Or Never.com. Without ever leaving the Buy Now Or Never.com site, customers can log into their Amazon account and use the payment and shipping information already there!
Internet Shoppers have increasingly listed the inconvenience of entering payment and shipping information as one of the least-liked parts of ordering online. Now with Checkout By Amazon, Buy Now Or Never.com has taken away that frustration when ordering our discount designer handbags or any other of our fabulous offerings. No more digging through purses or wallets looking for credit cards and then re-entering card numbers or having to type in billing and shipping addresses while checking out on Buy Now Or Never.com! By just clicking on the "Pay with Amazon" button during the checkout process, customers can finish the ordering process by using the information already listed in their Amazon account. Whether purchasing the smallest wardrobe accessory to one the largest rugs available in Buy Now Or Never's wide selection of discount home furnishings, the extra fast and efficient Checkout By Amazon also gives Buy Now Or Never.com customers peace of mind by knowing credit card information is secure, and purchases are protected by the same buyer protection plan available on Amazon.
Buy Now Or Never.com is proud to have been named as one of the "10 Cheap-Chic Sites" and a "can't miss store for the hottest fashions at affordable prices" in People Magazine's Style Watch!