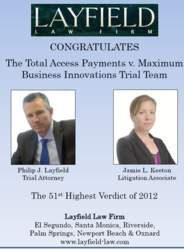 Ranked number 51 out of thousands of recorded verdicts.
El Segundo, CA (PRWEB) April 30, 2013
The Layfield Law Firm is proud to announce that they have been recognized in the The Top Verdicts April Edition of the Recorder for having one of the largest verdicts in California for 2012.
With a $5.225 million dollar record jury verdict in the case Total Access Payments, Inc. v. Maximum Business Innovations, Inc. et al which took place at the Orange County Superior Court House, (Case No. 30-2011-00507384). The Layfield Law Firm ranked number 51 out of thousands of recorded verdicts.
In the trial the Layfield Law Firm Attorneys Philip Layfied and Jamie Keeton represented Total Access Payments (TAP), an electronic payment processing company. According to court documents, the use of forged contracts were used by defendants to manipulate TAP into wiring $1 million dollars into an escrow account; where it was then used for the defendants own personal benefit. Court documents state that after two years of investigation and the realization that the money was used to buy personal homes, cars and vacations The Layfield Law Firm was able to hold numerous defendants accountable, including previously undisclosed participants.
The Layfield Law Firm specializes in complex business litigation and catastrophic personal injury matters in California and across the country. Representing with compassionate serious legal protection for over a decade, you will find comfort in knowing there is hope for a brighter future.