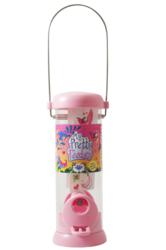 Plainfield, CT (PRWEB) April 30, 2013
Each year, Earth Day inspires a new awareness of our planet for young children, and a desire to become part of its stewardship. Droll Yankees' newly-designed My Pretty Feeder encourages children everywhere to attract and feed wild birds, helping them to develop an interest in the natural world.
One of Droll Yankees' newest feeders, My Pretty Feeder is especially appealing for girls, with its pink color and stickers of stylized birds, flowers, and hearts included so that kids can personalize their own feeder. Its durable plastic construction will withstand sun and weather, and its small, eight inch size is ideal for little hands, making it easy to fill, hang, and clean.
My Pretty Feeder has two perches and holds ½ pound of sunflower or mixed seed, which will attract chickadees, tufted titmice, nuthatches, goldfinches, and many more types of birds for children to observe and learn from.
By providing a food source for birds, children will be able to give the birds the extra energy that they need for spring nesting, summer brood raising, fall migration, and winter warmth. Once birds begin to visit My Pretty Feeder, children will feel as though they have really taken ownership over the process and will be eager to continue feeding the birds. With the help of a field guide or other identification guide – or maybe the guidance of a knowledgeable relative – kids will quickly learn to identify the types of birds that visit the feeder. Added benefits for kids who are active outdoors include reduced stress levels, and improved attention span, self-confidence, and self-esteem.
Thanks to its threaded base, My Pretty Feeder may be hung or pole-mounted, and it also allows for the addition of Droll Yankees' seed trays or threaded accessories, which will help to attract an even greater variety of birds for children to watch. An angled seed baffle inside the tube prevents seed from gathering and spoiling, and ten small drainage holes allow water to drain and air to circulate, keeping seed even fresher.
Look for Droll Yankees' My Pretty Feeder at a local Droll Yankees retailer, call Droll Yankees at 888-851-6621, or shop online at http://www.drollyankees.com.
###
In 1969, Droll Yankees started a bird-feeding revolution with Model A-6F, the first tubular bird feeder. Since then, Droll Yankees has built on that success, continually developing innovative approaches to bird feeding that benefit both the birds and Droll Yankees customers. Generations of bird lovers have appreciated Droll Yankees' quality construction, functional simplicity, and commitment to American workers. Droll Yankees offers a Lifetime Warranty and will replace any squirrel-damaged or defective parts, free of charge. To learn more about Droll Yankees' products, visit http://www.drollyankees.com.