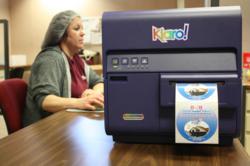 The most impressive feature of the Kiaro! label printer is the quality of the picture.
West Warwick, RI (PRWEB) April 30, 2013
QuickLabel Systems, a brand of Astro-Med, Inc. (NASDAQ: ALOT), visited O&H Danish Bakery, a full-line bakery located in the kringle capital of the world in Racine, WI, to find out how the bakery is using the Kiaro! inkjet label printer to make its own professional labels for a variety of Danish kringle pastries and other bakery items.
To watch a video about how O&H Danish Bakery is cutting label costs and enhancing the appearance of its packaging by printing its labels with the Kiaro!, please visit: http://bit.ly/14SN4Bd.
O&H Specializes in Authentic Kringle Pastries
A kringle is a tender, oval-shaped Danish pastry with over 32 layers of butter in its flaky dough. O&H Danish Bakery is known far and wide for making authentic kringles with an ever-changing menu of seasonal filling choices, including blueberry, cherry, apple cinnamon, apricot cheese, Irish Cream, and Red Velvet, just to name a few. Even President Obama enjoys O&H's kringles – he stopped by their retail bakery to sample some during his last campaign.
Printing Labels for Mail Order Kringles and More
Its popular online and catalog mail order business keeps O&H running two bakery facilities full-time throughout the year, even after the October-December holiday rush season is over.
For O&H customers, this means that their choice of delicious filled kringle pastries are never more than a click or a phone call away. For O&H's owners, this means that labels for any flavor of kringle may be required at any time – with no way to predict the quantity of labels needed.
"We found that purchasing pre-printed labels and inventorying those labels is very costly," said Owner and President Eric Olesen.
The Kiaro! inkjet label printer helps O&H to accommodate the unpredictability in its demand for labels. "Going to the Kiaro! printer that is able to make a label only as we need it, change the label when we need to change it, reduce our wasted inventory – it just makes more sense," said Eric Olesen.
"One of the major advantages of the Kiaro! is that we can maintain a smaller inventory and print on demand," added Vice President Peter Olesen. He noted that the FDA mandates highly accurate nutrition facts labels, requiring the company to get new labels each time an ingredient changes, something which occurs whenever the bakery introduces new flavors or when suppliers change formulations.
"With the Kiaro!, we don't have to worry about changing ingredients lists and having to get rid of an entire stock of labels," said Peter Olesen.
People Eat with their Eyes First
"One of the reasons we chose the Kiaro! for a label printer is that we really like the quality," said owner Eric Olesen.
"I'm a firm believer that people eat with their eyes first. Part of the experience of shopping for bakery is not just the bakery, but the first thing they're going to see is the label that's on the bakery product. So we really want good detail on the label that represents that image that we're trying to portray, and I think that the Kiaro! printer does just that for us," he added.
"The most impressive feature of the Kiaro! is the quality of the picture. The round labels that we do – those are my favorite because they have a picture of the bakery on them – they are very clear. It's just really good quality," said Wendy Xavier, Administrative Quality Control Manager.
But Media Coordinator Sara Willing said that print quality is not the only great Kiaro! feature.
"I would say the most impressive thing about the Kiaro! is the speed," said Sara. "I can easily print off 100 or 200 labels at a time in just a matter of seconds, really, when I press the Print button."
Making a More Professional-Looking Label
"The Kiaro! has not only helped us to earn new customers, it has helped us to earn more business from our existing customers because we've been able to make a much more professional product that helps their brand as well as promoting our brand at the same time," said Peter Olesen.
O&H uses the Kiaro! to print labels for its mail order business and also to print personalized labels with logos for the bakery items that organizations purchase as corporate gifts.
"Our mail order labels are fun and informative labels that we apply to our containers to share the history of the product and the best ways to cut and serve, hopefully enriching our customers' experiences. The labels are unique and vibrant and the stories are good to tell," Peter said.
"I do think that having great-looking labels and packaging is great for our customers because it shows off our product. We have a great product already, and if we can show that in our packaging as well, it's a great sell," added Willing.
"One of the benefits of having the Kiaro! is that we could expand the benefits of label printing to other areas of our organization where maybe we didn't have a label before. We've really enhanced a number of channels of our business by having the Kiaro! on hand," said Peter Olesen.
"It's fantastic that O&H Danish Bakery is enjoying their Kiaro! label printer and the flexibility to print labels on-demand, in short-run batches. I know first-hand that O&H Danish Bakery kringles are absolutely delicious, so I am especially proud to know that they are using our Kiaro! to print their own labels for their bakery items," said Eric Pizzuti, Vice President & General Manager of QuickLabel Systems.
The Kiaro! inkjet label printer from QuickLabel Systems prints bakery labels in short-run batches at the high speed of 8 inches per second, in 1200 dpi high-quality resolution. It is priced under $10,000 USD. For more information about the Kiaro!, visit http://www.QuickLabel.com/Kiaro.
About O&H Danish Bakery
Since 1949, O&H Danish Bakery has been the premier award-winning producer of authentic Danish kringle in Racine, WI, the "kringle capital" of the world. Each oval-shaped O&H Danish Bakery kringle takes 3 days to produce and is made with 32 layers of butter and filled with a variety of fruits, nuts, and gourmet flavors such as: Almond Macaroon, Apricot, Cherry, Cinnamon Roll, Raspberry, and Red Velvet. You can order an authentic Danish kringle for just $9.95, and the company will guarantee 2-day delivery. For more information about O&H Danish Bakery, please visit http://www.ohdanishbakery.com.
About QuickLabel Systems and Astro-Med, Inc.
QuickLabel Systems is a leading manufacturer of digital color label printers, inks, and labels used by coffee roasters and other manufacturers who want to print their own labels in-house. QuickLabel Systems is a brand of Astro-Med, Inc., a manufacturer of high tech specialty printing systems and data acquisition systems. Astro-Med, Inc. (NASDAQ:ALOT) is a member of the Russell Microcap® Index. Find out more about QuickLabel Systems by visiting http://www.QuickLabel.com or telephoning 877-757-7978. Keep up with QuickLabel Systems via the QuickLabel Blog at http://www.QuickLabel.com/blog and also by joining us on Twitter at http://www.Twitter.com/QuickLabel and on Facebook at http://www.Facebook.com/QuickLabel.
# # #