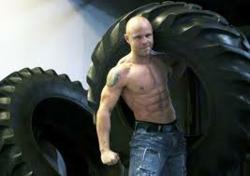 It's almost like we could see the future.
Toronto, Ontario, Canada (PRWEB) April 26, 2013
Dynamic Conditioning Centre (DCC), a Toronto gym that pioneered the fitness playground concept eight years ago, today announced an expansion that has increased its training space to 4,000 square feet.
Fitness Playground gyms were featured in a New York Times article on April 21, 2013 but the concept is nothing new for DCC, which has been billed as "the first fitness and athletic playground" since its inception.
"It's almost like we could see the future," says co-owner Lee Davy.
DCC's expansion is the logical next step for a successful gym that offers boot camp style classes and personal training for all fitness levels, everyone from soccer Moms, to CrossFit competitors to weekend warriors. The increased training space was accomplished by knocking down walls to expand into areas that were previously storage space and therapy rooms.
DCC has plenty of barbells, weights and lifting platforms, but few machines. It emphasizes natural and functional movements with tires, sledgehammers, yokes, sand bags, barrels, an astroturf hill, climbing ropes and much else. There is also plenty of open space.
"Everyone is an athlete," says DCC Co-Founder Lee Davy. "We want people to become kids again, to laugh and enjoy themselves as part of a fun community," adds DCC Co-Founder Jared Postance.
Davy and Postance both grew up in rural Ontario and were used to seeing people split wood and throw hay. These sort of movements made much more sense to them than elaborate and expensive exercise machines that isolate muscles. Both worked in conventional gyms but found much of what goes on there "boring" and not as effective as it could be.
"The idea is to challenge the entire body on a multi-plane basis and get away from the same old, same old," says Postance.
DCC gym-goers agree. "I kept feeling the urge to run off and play with something," wrote a blogger for BlogTo in 2008, saying that she felt like a kid in playground and actually shouted "Yee-haw!" She concluded: "this sure is fun!"
But it wasn't always so much fun in the gym's early days. People were taken aback at the gym's unconventional appearance – and it wasn't just potential clients who scratched their heads. Davy recalls: "Trainers would walk in and just be dumbfounded. There would be dead silence and then they'd ask: 'Where are all the machines? How am I supposed to train people?'"
Much has changed in the last year or so, as the fitness playground concept gains traction. Even big box gyms have started to add turf and eliminate some machines.
Postance and Davy think it's a great trend, but are a bit wary, because there are so many "here today, gone tomorrow" fads in the fitness industry. "For us, this is not a fad. This is our existence," says Postance. He points out that you have to do much more than just buy a few sandbags to create a fitness playground. It's all about the community and the caring.
The owners say they have succeeded in their original goal: creating a community that is challenging and fun, and keeps people coming back for more as they become their best selves.
"We want people to laugh and enjoy the atmosphere, just as they did as kids playing on the playground," says Postance.
With DCC's recent expansion, there will be more opportunity than ever to do just that.