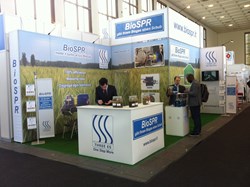 "Biogas represents an exciting new dimension to the SPR biofuel portfolio. We're extremely excited about the work Mr. Soldo and Three-Es are doing in the European market." -Doug Mancosky, VP of R&D
Rome, GA (PRWEB) April 27, 2013
Hydro Dynamics, Inc. (HDI) of Rome, Georgia partner Three-Es S.r.l. (Three-Es) of Milan, Italy is exhibiting the ShockWave Power Reactor (SPR) at a large biogas event this week. The BioGas World Trade Fair Berlin (http://www.biogasworld.de/en/) will take place in Berlin, Germany from April 23rd to 25th of 2013.
Biogas is the production of methane through the digestion of mostly waste materials. In tests the SPR has been shown to increase the yield of biogas by 20% or more along with a 20% reduction in time and energy use. A commercial trial has been ongoing for over 60 days with similar exciting results.
Doug Mancosky, Vice President of Research and Development from HDI said, "Biogas represents an exciting new dimension to the SPR biofuel portfolio. We're extremely excited about the work Mr. Soldo and Three-Es are doing in the European market." Look for more exciting biogas yield increase technology developments from HDI this spring.