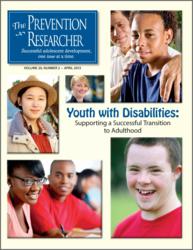 With over half-a-million adolescents with disabilities transitioning into adulthood, our goal ...is to highlight positive supports and connections adults can provide.
(PRWEB) April 30, 2013
"With over half-a-million adolescents with disabilities transitioning into adulthood, our goal with this issue," says Steven Ungerleider, Ph.D., founding editor of The Prevention Researcher, "is to highlight positive supports and connections adults can provide youth with disabilities at the personal, practical, and policy levels. In this way, we can help them achieve a personally rewarding and successful life."
The April 2013 issue of The Prevention Researcher focuses on the supports youth with disabilities need while transitioning into adulthood. It revolves around the concept of social capital – that is, the importance of relationships and social networks, whether formal or informal – in providing support to increase postschool success for youth with disabilities.
In an introductory article, Debra Stewart and colleagues explore the current research on youth with disabilities, and more specifically, common themes which are emerging about the transition to adulthood for these youth, irrespective of their type of disability or the services which are available to them.
Audrey Trainor and her colleagues write about the importance of social capital. Their article demonstrates that youth with high incidence disabilities have a range of social capital, and by developing social capital in areas where it is lacking, we may be able to provide a necessary foundation to increase both community engagement and postschool success.
Programs designed to improve the employment outcomes of youth with disabilities can help them establish a niche in society, build social relationships, and become financially self-sufficient. Bonnie Doren and colleagues write about three key features within school-to-career programs which are linked to positive employment outcomes for youth with disabilities: being youth-centered, comprised of professional collaborations, and the importance of a close, caring professional.
We all know that friendships matter and this can be especially true for youth with developmental disabilities for whom friendships may be especially elusive. In the article, "Fostering Friendships," Erik Carter and colleagues write about research-based approaches for promoting interactions and relationships among adolescents with developmental disabilities and their peers in school and community settings.
Physical activity and active use of leisure time are important to everyone, including youth with disabilities. Unfortunately, youth with disabilities often have a difficult time or are even excluded from participating in physical activity. Martin Block and colleagues explore the barriers youth with disabilities often face in being physically active, and then discuss an "empowerment" model which allows them to successfully participate in community physical activity programs.
The complete issue of The Prevention Researcher on "Youth with Disabilities" is available in a complimentary digital edition at http://www.tpronline.org.
About The Prevention Researcher
Founded in 1994, The Prevention Researcher is published by the non-profit, Integrated Research Services in Eugene, Oregon. The quarterly journal focuses on successful adolescent development and serves professionals who work with young people in a variety of organizational settings.
Each issue of The Prevention Researcher covers a single topic, presenting the latest adolescent behavioral research and findings on significant issues facing today's youth. The journal provides information about programs that create supportive environments for youth, strategies for preventing problems affecting adolescents, and resources that help youth-serving professionals.