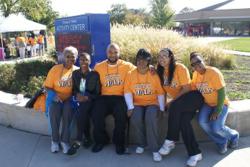 Grand Rapids, MI (PRWEB) April 26, 2013
***Attention: Due to severe flooding, the location for the Grand Rapids Walk for Lupus on Sunday, May 5th has been changed, and will now take place at Rosa Parks Circle.***
Grand Rapids Walk for Lupus
Sunday, May 5, 2013
2:00 pm – 6:00 pm
Rosa Parks Circle
135 Monroe Center Street NE
Grand Rapids, MI 49503
Free street parking is available all day, and additional parking is located in the structure across the street from Rosa Parks Circle.
The Grand Rapids Walk for Lupus has changed locations and will now take place at Rosa Parks Circle on Sunday, May 5th from 2:00 pm – 6:00 pm. All of the activities of the Walk and great support for Lupus Warriors will remain the same.
Registration will begin at 2:00 pm. The route is designed for people of all ages and abilities. Supporters with over $75 in pledges will receive a Walk T-Shirt. You can build your team for the Grand Rapids Walk for Lupus and start raising money right now at milupus.org.
There will be tons of fun during the day, including food, drop and 50/50 raffles, bingo, face painting and outdoor games including ladder ball, bean bag toss and more.
For Walk, pledge or sponsorship information, contact the Michigan Lupus Foundation office at (800) 705-6677 or online at milupus.org.