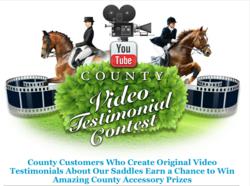 County's traditional methods take longer and require a higher degree of craftsmanship than competitors' methods, but once a rider sits in a County, the results are clearly worth it
LISBON, MD (PRWEB) April 26, 2013
County Saddlery today announced a YouTube video contest, asking its customers to create original video testimonials telling the saddle-maker what keeps them in their County saddles. Customers creating original testimonials describing their experience with County saddles earn a chance to win a free County saddle and free County accessories for their horses.
County asks each participant to create a video, titled "Why I Love My County Saddle," including his or her byline. The video should answer three questions: Why do you love your County saddle? How has your County saddle improved your ride? What has your County saddle done for your horse's performance and comfort?
Customers should upload completed videos to their YouTube account and email the video URLs to County at countycontest(at)countysaddlery(dot)com. All contest submissions must include the participant's full name, mailing address, email address and phone number.
All participants in the contest will be entered in County's "Win A Free Saddle" contest. The top-10 video entries will be featured on County's website, and winners receive the County accessory of their choice. Prizes include:
County Coolmax Coolers
County Scrim Show Scrim Sheet
County Logic Girth
Mattes Correction Pad – Full or Half
County Leathers
Descriptions of these products are available at: https://shop.countysaddlery.com/.
For more information regarding County's video testimonial contest, the public should visit the company's website at http://www.countysaddlery.com/youtube/. YouTube contest policies and guidelines are available at: http://support.google.com/youtube/bin/answer.py?hl=en&topic=1304541&answer=1620498
County's traditional methods take longer and require a higher degree of craftsmanship than competitors' methods, but once a rider sits in a County, the results are clearly worth it. The company's commitment to quality and detail is reflected in every saddle it makes.
Resisting the trend toward cheaper production methods that use foam-rubber panels and plastic trees, County saddles are handmade on laminated beech-wood trees, covered in the world's finest leather, and flocked with pure wool to maximize horses' comfort and fit. One of the few saddlery companies in the world to make their own tree points, County sets the industry standard in design and innovation.
For more information, readers should visit County's website at http://www.countysaddlery.com or call 1-877-41-HORSE.
###