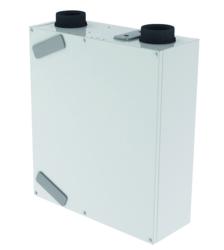 Greenland, NH (PRWEB) April 29, 2013
Zehnder America announces that it has received Passive House Institute Certification for its ComfoAir 160 ERV. This is the first Passive House Institute certified ERV in North America. In previous testing, Zehnder America had its North American Heat Recovery Ventilator (HRV) options Passive House certified and has now set a new precedent for meeting Passive House Institute Certification for an ERV unit used for mechanical ventilation in a high-performance home. Passive House Institute Certification for an ERV unit is awarded on meeting criteria for the following categories: thermal comfort, effective heat recovery rate, electric power consumption, moisture recovery, air-tightness, balancing and adjustability, sound insulation, indoor air quality, and frost protection.
Zehnder America plans to certify more units with the Passive House Institute to provide additional third-party confirmation of its leadership in high-efficiency heat and energy recovery ventilation. The Zehnder Novus 300 HRV is the highest efficiency heat recovery unit in the world. The Zehnder ComfoAir 350 HRV, the most commonly used Zehnder unit in North America, recovers over 90% of the room temperature. As a result, even during a cold winter day, the incoming fresh filtered air into the house is within 2-3 degrees of the inside temperature.
The Passive House Movement (super energy-efficient construction) has grown significantly in North America in the past few years. Today's buildings have become tighter and more insulated due to building codes and energy-efficiency awareness and this has led to the need for proper ventilation for healthy indoor air quality. Air-tight homes not properly ventilated are susceptible to poor indoor air quality as well as mildew and moisture damage. Zehnder's Comfosystems provide the highest standard for quiet operation, energy-efficiency, indoor air quality, and performance.
About Zehnder America
Zehnder America offers Passive House certified Heat Recovery Ventilators and now Energy Recovery Ventilators for the North American market. Whether for a Passive House or other high-performance home, Zehnder's technical team will help with the designing of the Zehnder ventilation system to ensure optimal indoor air quality and comfortable living. Zehnder America is a division of the Zehnder Group, which has 3200 employees worldwide and specializes in advanced heating, cooling, and ventilation solutions. The Zehnder Group has been in business since 1895.