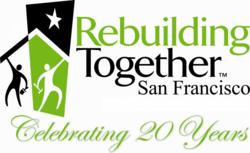 San Francisco, CA (PRWEB) April 26, 2013
On Saturday, April 27, hundreds of volunteers from 25 Bay Area companies and organizations will join Rebuilding Together San Francisco (RTSF) to transform 20 homes, schools and other community facilities across the city.
RTSF responds to the need for low-cost housing and community facility rehabilitation programs in San Francisco, improving living conditions for local low-income families. "This year we received applications from homeowners in the Bayview, Oceanview and Excelsior neighborhoods seeking our help," states Karen Nemsick, RTSF's Executive Director. "Low-income homeowners simply cannot afford all the expenses to keep their homes maintained. Sometimes, it comes down to choosing between paying for food or medicine over fixing holes in the ceilings and floors."
Nonprofits also benefit from volunteer-based repairs. On April 27, Asian Neighborhood Design and Mission Neighborhood Center will receive repairs including painting, carpentry, electrical, and plumbing. These repairs are essential to the organization's ability to provide a safe and healthy place for clients and staff to work and learn. Since the repairs are free of charge to the nonprofit, they can direct the savings to client services instead.
MacFarlane Partners, Prologis, Wells Fargo, U.S. Bank, The Belden Club, KKR, Sephora, and Ernst & Young are among the companies returning to sponsor the nonprofit organization's annual Rebuilding Day, now on its 24th year. This type of community engagement is a key factor in the organization's unique operating model that combines volunteerism and in-kind donations. Spending an average of $3500 on materials costs per project, RTSF leverages volunteer labor and discounts/donations from local hardware and building supply stores to provide a market value of between $8000 - $40,000 worth of repairs on each project. Since the first Rebuilding Day Event in 1990, local companies have contributed $4.5 million dollars to their neighborhood revitalization activities that are estimated to carry $10 million dollars in market value.
About Rebuilding Together San Francisco:
Rebuilding Together San Francisco mobilizes teams of volunteers to revitalize neighborhoods via home repair and community facility renovations. By using and re-using resources in our community, we're able to provide these repairs free of charge to low income homeowners and nonprofit organizations and schools. RTSF is a local affiliate of Rebuilding Together, a national organization that includes 195 affiliates serving 500 communities nationwide, and mobilizing thousands of volunteers each year.