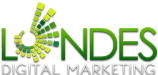 ...help drive down costs for the clients out there who could really benefit from professional digital media services...
Rochester, NY (PRWEB) April 30, 2013
Londes Digital Marketing (LDM) is excited to offer white label partnerships to help online design and marketing firms provide more comprehensive online services. These partnerships are designed specifically for marketing institutions to develop flexible, all inclusive packages, including paid search adverting (PPC), and Analytics consulting services to a wide variety of clients.
LDM can provide a large range of online marketing services within these partnerships. Offering full-service online marketing services provides a competitive advantage, and LDM's white label services allow small firms to scale effectively. Now smaller firms can compete in the highly-competitive digital marketing environment.
"Digital media solutions support a wide range of marketing strategies. Partnering with other experts ensures top quality, top performing solutions for clients," explained Sydney Hadden, Digital Marketing Manager at LDM.
While the agency also performs design, email marketing, strategy consulting, and other digital media services, white label partnerships seem to be a great opportunity for LDM to provide their expertise while allowing other small agencies to focus on their strengths.
"At LDM, we have years of experience in PPC, SEO, and analytics consulting. We focus on providing quantitative-based analysis and maximizing ROI for our clients," explained Mike LaLonde, a consultant at LDM.
Companies that are looking to get started or improve their online presence can utilize the marketing resources and expertise of a combined effort in leading agency partnerships. A wide array of skills are necessary to launch a successful online marketing campaign. Rather than work with several different companies to achieve high-quality results, white label partnerships allow entrepreneurs and small businesses to execute professional designs and marketing campaigns on limited budgets.
"Not every small agency has top-notch capabilities at every skill necessary to fully develop a professional web presence," continued Mike. "These partnerships really help drive down costs for the clients out there who could really benefit from professional digital media services, but can't afford the commitment of a large agency."
For information on a potential while label partnership, contact Sydney Hadden at Sydneyh(at)Londes(dot)com or call (585) 617-3242. Visit the office at Londes Digital Marketing, 4 West Avenue, Spencerport NY 14559 or online at http://www.Londes.com.
Londes Digital Marketing is a digital marketing agency specializing in SEO, SEM, and Web Analytics. Their quantitative approach to online marketing campaigns helps enterprise-level clients maximize ROI through ongoing analysis, testing, and optimization.