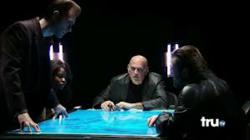 Our goal is to relentlessly inspire international discussion and debate – until all human beings on the planet are free from mind control and silent assassination technologies.

Upland, CA (PRWEB) April 27, 2013
In observance of National Crime Victims' Rights Week, April 21-28, Freedom From Covert Harassment and Surveillance (FFCHS) announces the airing of two important shows that are raising global awareness about targeted individuals.
The first program aired during the Christmas season last year on December 17, 2012. It was an episode of Jesse Ventura's 'Conspiracy Theory' show called, "Brain Invaders." Link: http://www.youtube.com/watch?v=18PtOXrzDVE
The show opened with a familiar face in the FFCHS community, Dr. Terry Robertson, upon whom many call for advice and direction regarding physical ailments from the targeting. "I commend Jesse for taking a proactive stance on this issue. He put out a lot of credible information for the public to see," said Dr. Robertson.
Afterwards, there was Ken Baker, a former police officer, who said: "I was elated. They were super people. They were very open to everything I was saying to them. I really enjoyed working with them."
Those in Wisconsin were hosted by Lisa Becker, who along with several friends from the support network there, all shared their story of how they became targeted with electromagnetic technologies. This is "the first program devoted to talking about the issue of electronic attack of US citizens," writes Lisa. …"We are greatly indebted to the Governor and TruTV for airing this broadcast."
"I'm glad we did the filming. We were very thankful and appreciative that he was filming this and bringing everything to light," said Eileen Spilka, also one of the Wisconsin participants.
Finally, "the doctor", Robert Duncan spoke to Jesse and admitted that he had "empowered the dark side" with some technological work. His outlook and observations during the show were quite sobering as he believed the technology had "progressed too far to be stopped."
Jesse's riveting speech at the end of the episode capped an hour of dramatic revelations. "They're not crazy. Remember that!" he demanded. "We've shined a light on these rats! And you've got a voice, too. We all do. And they can be the loudest of all!"
The second show debuted on April 12, 2013 and is entitled, "Who is Elisa Lam?" - http://www.youtube.com/watch?feature=player_embedded&v=EfqxN5DHFvU It was produced by an international team of artists, scientists, and activists, based in Reykjavik, Iceland. "We feel that this is, without question, the most important issue facing humanity today. It is also our greatest opportunity once it is overcome!" as they state on their website – whoiselisalam.org.
This film explores the exponential increase in electromagnetic smog that surrounds us each day, emitted from such sources as cell towers, wi-fi, gps devices, and home appliances, which as the documentary points out, could explain the huge decreases in various species of life on Earth.
It segues from there to present the idea that in some instances this energy can be harnessed and directed at individuals or whole populations to cause a number of specific effects to control the human mind and body.
More from their website: "There are untold thousands of people who are being used as involuntary human test subjects. There are whistle blowers from the CIA and DoD who have written books explaining how the technology works and how it is being used…This affects every human being on the planet and all generations to come." http://whoiselisalam.org/?page_id=13
Finally, the site summarizes its activism efforts, which mirrors FFCHS's objectives, with regard to this new social cause when it states: "Our goal is to relentlessly inspire international discussion and debate – until all human beings on the planet are free from mind control and silent assassination technologies."