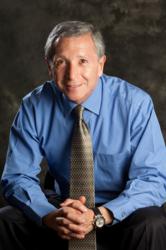 New York, NY (PRWEB) April 29, 2013
Dario A. Cortes, PhD, President of Berkeley College, was appointed to the Board of Directors, One To World, New York.
One To World brings future leaders from around the world together with Americans - one to one - sharing similarities and appreciating differences to build cultural understanding across the globe. Its mission creates global citizens and inspires a peaceful world through one-of-a-kind programs in classrooms and communities. One To World is designated by the U.S. Department of State as the official coordinator of Fulbright enrichment programs in the greater New York area. In addition to working with Fulbright grantees, One To World promotes connections with the 65,000 self-sponsored international students studying in the greater New York area.
"I am honored to be a member of One To World's Board of Directors," said Dr. Cortes. "This organization exemplifies a unique teaching and learning discipline that develops future global leaders and connects them to an expansive international network."
As a Director of One To World, Dr. Cortes joins an actively involved Board comprised of 20 internationalists from the academic, corporate and non-profit sectors.
Dr. Cortes was appointed President of Berkeley College in July 2008. He previously held several senior-level administrative positions including President and Executive Director of the American School Foundation, A.C. (ASF), in Mexico City. He served as Vice President for Academic Affairs at the Fashion Institute of Technology, the State University of New York. In addition, Dr. Cortes served as Dean at Fairleigh Dickinson University and Associate Dean of Graduate Studies and Research at the University of Maryland at College Park. He has completed post-graduate work at Harvard University and the University of Pennsylvania. In 2008, he was named a Klingenstein Fellow at Teacher's College of Columbia University.
A leader in business education for more than 80 years, Berkeley College is accredited by the Middle States Commission on Higher Education and enrolls more than 7,700 students — including more than 800 international students — in its Baccalaureate and Associate degree programs. The College has four New York locations — Midtown Manhattan, Lower Manhattan in the Wall Street area, Brooklyn, and White Plains. And in New Jersey there are four locations — Woodland Park, Paramus, Woodbridge, and Newark. Berkeley College Online also offers full degree programs. Programs are offered in more than 20 career fields. The website address is http://www.BerkeleyCollege.edu.
http://berkeleycollege.edu/press_release_images/Dario_Cortes.jpg