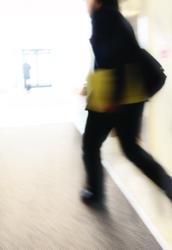 There must be a focus on ethics and sound business practices. Recent history has proven loud and clear that these qualities among process servers can often be lacking.
Mokena, IL (PRWEB) April 26, 2013
With several issues surrounding the future of process service abuzz including compliance and possible new tools of the trade, Firefly Legal advises legal professionals that it's more important than ever that process servers are able to offer and deliver a high level of service.
"There is currently a lot of speculation on the future of process service and new means—but it's important to not lose sight of the end," said Matt Massa, vice president of Firefly Legal. "The end is service of process that is reliable, trustworthy and effective. There must be a focus on ethics and sound business practices. Recent history has proven loud and clear that these qualities among process servers can often be lacking."
To assist legal professionals in making an informed decision when entrusting a company to serve legal papers, Firefly offers items to consider and questions to ask prior to working with a process server.
Licensed
Before hiring, potential clients should ensure a process server is licensed or fully authorized to serve process, and that any licensing is up to date. The number of states requiring mandatory licensing for process servers is quickly growing. It's important that if licensure is required that they actually keep up with renewing it.
Proactive
One question to always ask: what precautions have been taken to avoid security breaches and to stay on the forefront of changing industry standards?
Firefly Legal recognizes the importance of compliance and staying informed and up-to-date. To provide clients additional confidence, Firefly recently launched a voluntary audit and obtained SOC 1 certification. The audit verified that Firefly's security measures including information technology and relevant controls, internal business processes and controls, processing integrity and confidentiality among other points of evaluation, are sound. Firefly also regularly updates their process servers on changes in law, policy or case-law decisions that affect them.
SOC 1 certification, though not currently mandatory, could soon be required for process servers—especially those who deliver foreclosure notices and other mortgage-related documents.
Ongoing training is also critical for process servers. As laws are constantly changing and being updated, it's important that servers stay briefed on the latest laws. Membership in process server associations is a good way to stay informed.
Reputation
Numerous incidents over the past several years involving process servers failing to uphold their part of the process have tainted the industry. Sewer service, identify theft, forgery, false personation, preparing false evidence, and embezzlement have all been a problem.
Firefly Legal maintains an A+ and complaint free status with the Better Business Bureau and participates in a number of industry organizations.
Communication and Innovation
Process servers should be transparent and offer several methods for company to client communication. Nothing is worse for a client than being completely in the dark. Firefly Legal keeps communication lines open and the process well-lit by offering multiple options for communicating with clients including email, chat, client login, social media and a toll free number, all to provide exceptional customer service.
Firefly Legal is also consistently among the first to adopt game-changing technology. In February 2006, the company harnessed the power of mobile by developing and deploying a process service app that allows process servers to give real-time updates with double GPS and picture uploads in the field. Double GPS is the ability of the app to pull GPS as the process server is updating the job and then compare to the GPS from the uploaded photo.
Additionally, Firefly incorporates all industry best practices including pre-skip, real-time reporting from the field, pictures with thorough descriptions, electronic data interface bridging and ability to work with third party case management software. It is clear that Firefly aims to become their client's business partner and not just a vendor.
Reporting
How detailed are a process server's notes? Do they include GPS citations, photos and physical descriptions? It's important to have a complete and descriptive service affidavit. Make sure your server provides this and that they do it well.
Firefly Legal employs technology that tracks the likelihood of a server to make the attempts at times specified and reporting methods that assist the civil process in identifying anomalies if service is being falsified. Additionally, Firefly's servers are trained to provide physical descriptions of the individual served, location of service, and to provide photos, which include GPS information.
For more industry news and tips or information about Firefly Legal, check out fireflylegal.com and stay in the loop by joining our online communities on Facebook and Twitter.
About Firefly Legal:
Headquartered in Mokena, Illinois, Firefly Legal is a national associate legal services company specializing in process serving, skip traces, court filing, document retrieval, and loss mitigation. Be sure to check out Fireflylegal.com for more information.