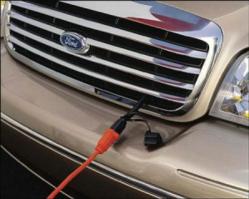 Using a block heater during the colder months can save you up 25% of fuel on a single short trip.
Chicago, IL (PRWEB) April 26, 2013
As the celebration of Car Care Month continues, Car Finder Service publishes Car Care Tip #26: "How to Save Fuel During Cold Weather." This is the 26th installment in the 2013 Car Care Tips program aims to help car consumers reduce the fuel consumption of their vehicles during cold weather.
Car Care Tip #26 discusses about how cold weather increases the amount of fuel consumed by a vehicle. This is because cold temperature requires the car to run for a few more minutes in order for its engine to reach the optimal temperature and function well. Due to this, the engine is used longer than the usual and this increases the amount of fuel consumed by the vehicle. Thus, the fuel expenses incurred by most car consumers during the colder months are relatively higher.
In order to address this issue, Tip #26 provides two of the most effective ways to lower the amount of fuel consumed by every vehicle during the colder season. The first strategy is a block heater. The block heater heats the car coolant up allowing the engine to reach the optimum temperature without the need to drive the car longer and burn more fuel.
Aside from that, Tip #26 recommends that consumers avoid starting the engine and leaving it running for a few minutes before driving. This method is a myth and only increases the vehicle's fuel consumption. Car experts revealed that in order for the engine to reach the optimal temperature, the car should be driven for a few more minutes.
In celebration of Car Care Month, the 2013 Car Care Tips Program is designed to help consumers of popular family vehicle manufacturers - such as Toyota and Ford - take proper care of their vehicles by publishing one new article each day.
Check Car Finder Service each day in April to learn a new money-saving maintenance lesson. Consumers will gain tips on basic mechanics such as replacing brake pads, spark plugs, and worn discs. They will learn new ways to clean their car and keep the vehicle's exterior & interior appearance in good condition. They'll even learn which models to choose to avoid extra maintenance efforts.
http://CarFinderService.com is an automotive website committed to helping car buyers search for the best brands of new and used car models. The service provides the most up-to-date local pricing, specs, and feature information for all popular car models sold in North America.
Car Finder Service also helps consumers with the latest vehicle financing and insurance opportunities at competitive rates in partnership with an extended network of car dealers and vehicle financing & insurance providers throughout the US.