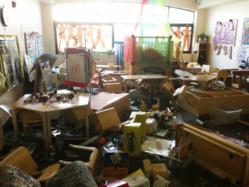 Employees of Constructive Playthings traveled...to help rebuild and install 6 new classrooms...
Grandview, MO (PRWEB) April 26, 2013
Community Parents Inc. is a comprehensive parent and early childhood program, serving children 3-5 years old and works to promote self-sufficiency and community empowerment. Their facility is currently located in Far Rockaway, New York and recently felt the devastating effects of Hurricane Sandy. Their facility (pictured after the hurricane), and the surrounding community, suffered water and wind damage that made their facility unusable. Executive Director of Community Parents Inc., Cynthia Cummings, ran a disaster relief center and food bank for many of the families in need that her organization typically benefits.
After hearing of the damage that Community Parents Inc. and its beneficiaries suffered, Constructive Playthings, an early childhood education company, took multiple steps to help Community Parents Inc. These steps included assisting in securing a grant from the Turner Family Foundation for $4,000 in emergency assistance funds. The early childhood education company also arranged for the delivery of much needed items including coats, jackets, and other warm-weather necessities to the families involved in Community Parents Inc. In addition, Constructive Playthings donated holiday toys and classroom materials to Community Parents Inc.
On January 28, 2013, employees of Constructive Playthings traveled to Far Rockaway, NY to help rebuild and install 6 new classrooms to get Community Parents Inc. kids back into their schools. These classrooms opened on February 4, 2013 with regular classes returning to their normal location in June 2013.