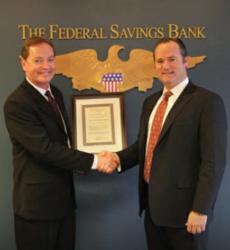 Individuals with a credit score below 580 will only require 10 percent down
Chicago, IL (PRWEB) April 26, 2013
With the price of real estate on the rise and interest rates near a record lows, some first-time homebuyers are left wondering how they will be able to finance a home. The Federal Savings Bank has noticed that many people have turned to the Federal Housing Administration over the years, which has helped more than 2.8 million first-time buyers purchase a home since 2009, according to the National Association of Realtors. Within the past year, about 75 percent of loans have been given out to first-time homebuyers, in fact. The reason so many people new to the market are flocking to borrow from the FHA is the fact that qualified borrowers can purchase a home by putting only 3.5 percent down. In that situation, borrowers would only have to put down about $5,250 in cash plus closing costs on a home that cost $150,000.
Ray Brousseau, a lending professional, said that individuals with a credit score below 580 will only require 10 percent down. The U.S. Department of Housing and Urban Development proposed that if an individual borrows more than $625,500, then they will need to put at least 5 percent down as a requirement. Since the FHA isn't technically a lender, it will insure the individual's mortgages are met to certain standards so that lenders are comfortable allowing the borrowers to finance with the 3.5 percent down payment instead of requiring the payment to be up front.
"One of the great attractions of the FHA program is that loans must be used to purchase a primary residence," he said. "However, a 'primary residence' can include a home that has anywhere from one to four units. As long as one of the units is owner-occupied, FHA financing can be considered. This means first-time owners can also become first-time investors with just 3.5 percent down if they meet FHA guidelines."
Gifts
Borrowers can be eligible to pay less cash up front if they are able to obtain a gift from family, friends or other sources.
Credit scores
In the past few months, the average FHA borrower had a credit score of 696. As of April 1, if an individuals debt-to-income ratio that exceeds 43 percent, they will have to go through a review regarding their loan application. In this case, manual underwriting can be useful due to the fact that it enables lenders to consider compensating factors while looking at the loan.
Debt ratios
There are generally two debt standards to consider. One is homeownership costs, which include mortgage principal, mortgage interest, property taxes and property insurance, which is also known as the front-end ratio. This cannot amount to more than 29 percent of gross monthly income. The second consideration is the fact that borrowers can qualify for FHA financing when all their regular debts, also known as the back-end ratio, don't exceed 43 percent of the gross monthly income. The back-end ratio includes car loans, credit cards and education loans.
For more information about FHA home loans or to speak with a loan officer, visit: TheFederalSavingsBank.com