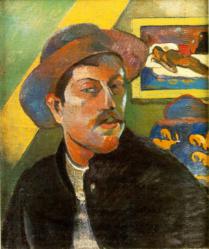 Gauguin's bold, colorful and design-oriented paintings significantly influenced modern art.
New York, NY (PRWEB) April 29, 2013
Mighty Mack announces the release of its newest app featuring all the stunning paintings by master artist Paul Gauguin.
Paul Gauguin (1848 – 1903) was a leading French Post-Impressionist artist. He was an important figure in the Symbolist movement as a painter, sculptor, print-maker, ceramist, and writer. His bold experimentation with coloring and his expression of the inherent meaning of the subjects in his paintings paved the way to Primitivism, Synthetist and Cloisonnist styles.
Primitivism was an art movement of late 19th century painting and sculpture characterized by exaggerated body proportions, animal totems, geometric designs and stark contrasts. The first artist to systematically use these effects and achieve broad public success was Paul Gauguin. The European cultural elite discovering the art of Africa, Micronesia, and Native Americans for the first time were fascinated, intrigued and educated by the newness, wildness and the stark power embodied in the art of those faraway places. Like Pablo Picasso in the early days of the 20th century, Gauguin was inspired and motivated by the raw power and simplicity of the so-called Primitive art of those foreign cultures.
His bold, colorful and design-oriented paintings significantly influenced Modern art. Artists and movements in the early 20th century inspired by him include Vincent van Gogh, Henri Matisse, Pablo Picasso, Georges Braque, André Derain, Fauvism, Cubism and Orphism, among others. Later he influenced Arthur Frank Mathews and the American Arts and Crafts Movement.
The full version of Mighty Mack's Paintings: Gauguin App features over 130 images of the great paintings from Paul Gauguin.
This app is available for iPod Touch, iPhone and iPad. Optimized for iOS6, retina display and iPhone 5. It allows the users to share images via email, Twitter and Facebook, or save them to camera roll (with no watermarks). Share the artist bio via email. Select favorites. View the images one by one, or enjoy a slideshow.
Enjoy this fantastic visual gallery, share the images with friends, and learn about the artist's life.
App Requirements:

iPad, iPod Touch or iPhone, with iOS 5.0 or higher
Wifi connection to download the app
An internet connection for sharing images via email, Twitter or FB (no internet connection required to view the app content)
Click here to see the complete collection of Aramis Artists Apps released by Mighty Mack.
--
Mighty Mack is a leading publisher of distinguished digital products for the consumer and professional markets. The Company leverages newly available digital tools to create, design, and share new ways of consuming information and experiencing the world around us. The company has released a variety of best-of-class Apps, including Advertising Today, Morpheus Dreams, Where2Boss?, Agora Briefcase, Film Today, among many others.
To learn more about Mighty Mack, please visit their website at http://www.mightymack.com or email them to press(at)mightymack(dot)com.