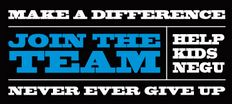 "Much of Jessie's life revolved around sports and fun and having these athletes and incredible performers join us is just an awesome honor." -- Erik Rees
Rancho Santa Margarita, CA (PRWEB) April 25, 2013
This afternoon, Erik Rees, CEO of the Jessie Rees Foundation announced that on Saturday, April 27, the Foundation will be joined at its annual fundraising NEGU gala by Olympic gold medalists Lenny Krayzelburg (four golds) and Kaitlin Sandeno, and NFL Quarterbacks Jordan Palmer (Redskins, Bengals, Jaguars), and Matt Leinart (Cardinals, Texans, Raiders), along with recording artist Sharif Imam. The NEGU gala will be held at the Newport Marriott Resort and Spa.
"Our gala allows us to raise the money critical to help 50,000 courageous kids with cancer in 2013 to 'Never Ever Give Up'," said Erik Rees, Jessie's Daddy and Chief Encouragement Officer of the Foundation. "Much of Jessie's life revolved around sports and fun and having these athletes and incredible performers join us is just an awesome honor."
At the 2012 gala, the Foundation announced a goal of distributing 50,000 JoyJars to courageous kids with cancer -- a goal that was met several months early through partnerships with over 200 children's hospitals and every Ronald McDonald House in the United States.
Each JoyJar carries 15-20 new, age-appropriate toys within its brightly covered sealed jar for courageous kids with cancer. Jessie started distributing JoyJars herself in 2011 during her fight against inoperable brain cancer. She passed away in January 2012 and was named a 'Little Wonder' by CNN in December 2012.
"Jessie cared for kids that faced the same struggles she faced by bringing joy to their lives and encouraging them to Never Ever Give Up," said Erik. "We are blessed to have supporters like Lenny, Kaitlin, Jordan, Matt, Rob, Sharif and thousands of others and all of those who have helped us distribute over 50,000 JoyJars."
What: Second Annual NEGU Gala benefiting Jessie Rees Foundation
Where: Newport Marriott Resort & Spa
900 Newport Center Drive
Newport Beach, CA 92660
Media should meet in resort lobby for escort to event.
Who: Lenny Krayzelburg, four-time Olympic gold medalist
Kaitlin Sandeno, four-time Olympic and gold medalist
Jordan Palmer, NFL QB (Redskins, Bengals, Jaguars)
Matt Leinart, NFL QB (Cardinals, Texans, Raiders)
Sharif Imam, International Recording Artist
Bolts, Disneyland Band
When: Saturday, April 27, 2013 5:30 - 8:30 p.m.
Jessie Rees Foundation (http://jessie.org)
Founded in 2011 by Jessie Rees and her family during her fight with inoperable brain cancer, the Foundation helps kids Never Ever Give Up in their quest for healing from cancer. Distributing Jessie's JoyJars © through 202 children's hospitals, and every Ronald McDonald House in the US, the Foundation has provided over 50,000 JoyJars to kids and families through the support of major corporate partners UPS, Life Technologies, and others. The Foundation has provided 100% of the JoyJars at no cost to the hospital or recipients and is completely funded through private donations.
Contact:
Jeff Gibson (949) 851-8511
jgibson(at)race(dot)com
###