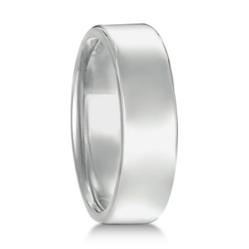 Platinum has become a favorite metal for its polish, high quality and strength.
New York, NY (PRWEB) April 26, 2013
Platinum is one of the rarest elements existing within the Earth's crust with 80% of the world production of platinum being mined in South Africa. Many jewelers have seen a renewed interest in platinum jewelry, especially thanks to its resistance to corrosion and ability to stand up to high temperatures. Since only a few hundred tons of platinum are produced annually, it is both a scarce and highly prized heavy metal.*
An Allurez jewelry spokesman told us, "Platinum has become a favorite metal for its polish, high quality and strength. What people may not know is that platinum, unlike other precious metals, doesn't cast color onto the stones or diamonds it's set with. It's a great option for men's and women's wedding bands for instance; and platinum can really handle bigger, chunkier bands, with or without sapphires, garnets, diamonds, whatever. I guess platinum is so popular because it holds up well with the active lifestyle of the wearer."
The latest news within the platinum market, including articles in Zero Hedge, reveals that the largest miners in South Africa will produce approximately 760,000 ounces less than previous years, due mostly to the closing of a large platinum mine and the rise in operating costs year after year.
As far as precious metals go, investors who in the past have depended upon gold and silver to fill their coffers are now adding platinum to the mix. The popularity of this metal will certainly continue to grow among investors and jewelry lovers alike.
Allurez is a well-known online source of jewelry information.Their mission is to provide customers with fashion-forward jewelry at affordable prices, as well as be a trusted provider of information regarding the jewelry industry.