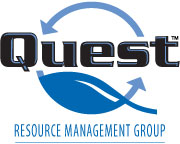 (PRWEB) April 26, 2013
Walmart Stores, Inc. held a Sustainable Value Network (SVN) meeting on Tuesday, April 23rd at the Sam's Club headquarters in Bentonville, AR. The SVN brings internal and external stakeholders together to develop solutions and deliver tangible results for Walmart, the retail industry and for sustainability. Highlights from this meeting included closed-loop recycling operations as well as successful partnerships between Walmart and its supplier companies.
Quest Resource Management Group CEO, Brian Dick, was privileged to speak in regards to the effectiveness of Walmart's closed-loop recycling operations, the experience of having a positive working partnership with Walmart, and the efforts Walmart is making to encourage sustainability for the retail industry.
"Quest has always enjoyed our partnership with Walmart and was honored to be asked to speak at this event," said Mr. Dick. "Walmart's Sustainability Vendor Network meetings are great chance for both suppliers and other retailers to come together and share ideas."
More information regarding the SVN can be found by visiting Walmart's 2013 Global Responsibility Report.
About Quest
Quest Resource Management Group is a full service environmental consulting and management company, headquartered in Frisco, Texas. Quest helps Fortune 500 companies to maximize profits and mitigate risks, while minimizing their ecological footprints. Quest clients span across all key industry segments, including food services, hospitality, healthcare, manufacturing, construction, automotive aftermarket and fleet industries. Quest Resource Management group provides North American clients with comprehensive sustainability programs, innovative recycling solutions and proven environmental protection.
Quest prides itself in delivering targeted solutions exclusively tailored to the needs of each respective client. Quest also offers Return on Investment (ROI) and Return on Sustainability (ROS) based road maps to help clients design actionable programs for managing RFPs, defining operational protocols, creating and implementing training programs, and defining best practices. Quest's Sustainability Intelligence Dashboard™ helps clients improve decision making by extracting greater insights through unsurpassed business intelligence.
###