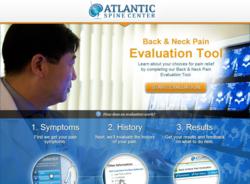 The causes of back pain are often very complex, and people are very different in their response to pain."
West Orange, NJ (PRWEB) April 26, 2013
Atlantic Spine Center in New Jersey announces updates to its back pain diagnostic tool on its website at http://www.atlanticspinecenter.com. The Back & Neck Pain Evaluation Tool™ is designed to help patients perform their own preliminary, at-home lower back pain diagnosis—and decide if they should seek professional treatment.
Back pain is an extremely common problem today, says Kaixuan Liu, MD, PhD, chief surgeon at Atlantic Spine Center. Almost everyone will experience it at some point, he says. It is the second-most common neurological complaint in the US (only headaches occur more often) and a leading cause of job-related disability and missed work.
The good news is that most cases of back pain will resolve on its own, typically within a few weeks. But for a significant number of sufferers—between 10 and 30 percent, according to most estimates—it becomes chronic, which means ongoing pain, lost work and productivity, and significant expense. According to one recent study, the direct and indirect costs of back pain represent as much as $120 billion—or $117 per capita—each year.
Diagnosis Is Key
Unfortunately, despite its prevalence, low back pain—or more precisely, the source of that pain—can be surprisingly tough to diagnose, Dr. Liu says. "The causes of back pain are often very complex," he says, "and people are very different in their response to pain." For example, an injury such as a fall or a spinal condition such as a herniated disc might leave one person in serious pain, while another person may call the discomfort mild. What's more, a case of back pain may be tied to more than one cause, Dr. Liu explains. "There might be age-related degeneration in the spine, which will make an acute or overuse injury that much worse. We also know that certain hereditary and lifestyle factors can also play a role," he adds.
For this reason, Dr. Liu and his staff at Atlantic Spine Center offer their Back & Neck Pain
Evaluation Tool™ as a way for patients to begin the evaluation process at home, before they meet with a doctor. The test, which takes only a few minutes to complete, can help someone with back pain determine if his or her back pain requires medical attention. What's more, it provides the doctors at Atlantic Spine Center the first critical pieces of information on a patient's condition, which kick-starts the diagnostic process and can help put the patient on the road to recovery more quickly.
The back pain diagnosis test starts with a series of targeted questions on the nature of the patient's pain. For example, the patient is asked to describe the sensation—is it cutting, burning, or throbbing?—and to show on a simple diagram where the pain is centered. Next, the patient will be asked about the history of his or her painful symptoms: When did they start? And what makes them feel better (or worse)?
The questions are designed to narrow the list of possible causes of the pain and help both the patient and doctor determine the best course of treatment. For example, Dr. Liu explains, "doctors know that the most common causes of low back are injury are overuse of the spine's structures (its muscles, ligaments, and joints) or pressure on the nerves in the spine (which can be caused by damage to one or more of the spinal discs, arthritis, or other causes)." Thus, the back pain diagnosis tool is designed to help determine if the patient's pain might be tied to one of these conditions—or something else.
"These are the questions we ask every new or potential patient," Dr. Liu says. "They might seem irrelevant to some people, but they provide us with the kind of critical information that's essential to an accurate diagnosis—and appropriate treatment."
About Dr. Liu: Kaixuan Liu, M.D., Ph.D., is a renowned endoscopic spine surgeon and founder of Atlantic Spine Center in West Orange, New Jersey (http://www.atlanticspinecenter.com).Dr. Liu is certified by The American Board of Pain Medicine and The American Board of Anesthesiology, and is a member of The International Society for Advancement of Spine Surgery, The American Society of Interventional Pain Physicians (ASIPP), The American Academy of Pain Medicine (AAPM), The International Intradiscal Therapy Society (IITS), and The American Society of Anesthesiologists (ASA). He also serves as an international surgeon for The Spinal Foundations in England.