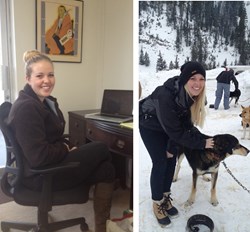 "Remember that your energy, positive attitude and confidence are always more important than anything you're wearing," says Smoot.
Jackson Hole, Wyoming (PRWEB) April 26, 2013
Sydney Smoot, an intern with boutique travel and culture PR firm WordenGroup Public Relations based in Jackson Hole, Wyo., and Denver, Colo., released a tip sheet on the company's WordenGroup PR Cred blog with suggestions on what to wear for a seasonal internship in public relations. Smoot had found herself fielding questions about what she's learned in the PR trenches about appropriate attire for an internship in a world of business casual, casual casual, and – at least in Smoot's case – sled dog race casual, with the Rocky Mountain PR firm's roster of clients ranging from the largest sled dog race in the lower 48 states and a national art museum in the mountain resort town of Jackson, Wyo., to a Vail condominium hotel, to architects and an Africa safari outfitter in Denver.
Smoot admits in the post that every work event she has ever attended has caused some level of anxiety over how to dress. With the caveat that she's lucky to be working for a PR firm in the already dressed-down Rocky Mountain West, attending work events and going to the office in Jackson Hole, Vail, and Denver, Smoot offers fellow interns a list of what-to-wear suggestions for an internship in the new world of business casual, adding that the list is "for winter through spring months and strictly for ladies – guys, you're on your own":

Dressing for the office: In the past few weeks Denver has seen everything from high 70s and sunshine to a record-for-April 19 degrees with snow, wind and ice – ups and downs that prove the wisdom of layering: "By taking an extra sweater or coat with you, you can put it on or strip it off to keep you comfortable and more relaxed to focus on work. Or slip it on to cover up a stain if you spill while eating lunch at your desk!" suggests Smoot.
Dressing to meet clients: "You want to give the impression that you take yourself seriously (which you do) as well as the company you are working for. A nice pair of pants with a cozy sweater and a cashmere scarf is a good go-to choice for fall through spring," advises Smoot.
Dressing for a business formal work dinner: As an undergraduate student with limited office experience, Smoot says dressing for a business formal work event doesn't come around too often, but suggests tucking a comb in your purse just in case as well as keeping an "eye out for that perfect 'little black dress' in a classic cut next time you're shopping Nordstrom's Rack."
Dressing to work at a sled dog race: "Working a sled dog race is probably a rare eventuality unless you, too, end up interning for WordenGroup, but it does raise the need for interns to be prepared, flexible and game for anything," says Smoot. And for the specific case of working the International Pedigree Stage Stop Sled Dog Race in Jackson Hole as Smoot found herself doing in January, she suggests stashing hand warmers in a pocket and remembering a hat. "Even better, find a hat, scarf, or vest that sports the sponsor's logo; that way you will stay nice and cozy while looking professional and representing your clients," she writes.
The summer internship: With summer fast approaching, Smoot offers the practical advice, "Don't wear anything that you would be embarrassed to wear in front of your grandma."
Finally, if that odd work event or situation arises where it's not clear what's appropriate – Smoot offers as example the time she, WordenGroup President Darla Worden and client and Antlers at Vail GM Rob LeVine attended a Hawaiian "luau" in a tent in a blinding snowstorm at the base of a Vail ski run – she suggests asking the boss or a coworker, who will no doubt be impressed by the intern's desire to look professional. And in a pinch, Smoot adds, "remember that your energy, positive attitude and confidence are always more important than anything you're wearing."
Company Information: Founded in 1996, WordenGroup is a boutique public relations firm with offices in Jackson Hole, Wyo., and Denver, Colo., poised to serve the public relation needs of art, architecture, hospitality and tourism companies in the Rocky Mountain West. For additional WordenGroup information, visit http://www.wordenpr.com
Media Contact: Darla Worden, WordenGroup Strategic Public Relations, darla(at)wordenpr(dot)com, 307.734.5335.