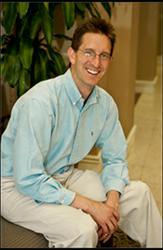 Charlotte, NC (PRWEB) April 25, 2013
Dr. Charles Payet is now using the new Laser Assisted New Attachment Procedure for periodontal disease treatment. Because only about one out of a hundred dental professionals are certified and trained on the procedure, patients in Charlotte, NC are lucky to receive this rare treatment option.
The LANAP protocol uses the specialized PerioLase MVP-7 laser instead of a scalpel to do the work. This means that the body can heal more quickly from the procedure so there is little downtime associated with it. In addition, the laser provides bio stimulation, which helps the entire procedure to be completed with little, if any, pain or discomfort to the patient. Bleeding gums are also minimized and the bone around the teeth is stimulated to regenerate. Approximately 90 percent of the inflammation caused by gum disease is removed while the healthy tissue is left in the mouth; this results in fewer instances of receding gums.
The basic LANAP periodontal disease treatment procedure begins with the dentist using a probe to determine periodontal pocket depth and the amount of detachment that has happened. Next, the laser's pulsing light removes the bacteria and the diseased tissue from the area. The calculus or tartar is removed from the pocket areas of the teeth with ultrasonic scalers. Next, the laser is used to stimulate the root, bone and soft tissue. The tissue forms clots that help it seal to the teeth and it is compacted against the surface of the root so that sutures are not necessary.
Millions of American adults suffer from gum or periodontal disease. The majority of them do not go in for treatment, because they may not realize how serious the problem is, or they may be concerned about pain and discomfort. Using the LANAP protocol, Dr. Payet treats patients with minimal downtime and discomfort. For more information about the LANAP procedure and the effects of gum disease, visit http://www.thecharlottedentist.com.
Dr. Charles Payet is a general dentist offering patients personalized dental care for Charlotte, NC since 1998. Dr. Payet completed his undergraduate degree and attended dental school at UNC-Chapel Hill School of Dentistry. He is part of one percent of dental professionals providing the most recent FDA cleared laser procedure for gum disease and periodontal treatment. To learn more about Dr. Charles Payet and his dental services visit his website at http://www.thecharlottedentist.com.