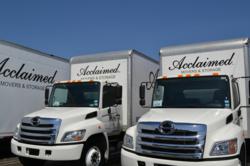 (PRWEB) April 30, 2013
Orange County's first choice for all luxury residential and commercial relocations, Acclaimed Huntington Beach Movers, has just revealed their redesigned website. The new site, which offers streamlined navigation, new moving related content, and a highly useful find a mover feature, makes it easy for customers to connect with Acclaimed's comprehensive moving solutions. The focus of the new content is to create informed consumers, while the 'find a mover' feature' allows users to quickly locate and contact the Acclaimed experts in their area. With the redesign of the sign, along with the expansion of the company's fleet, Acclaimed is primed to remain the go-to moving company in California. Acclaimed Huntington Beach Movers is a full-service, fully comprehensive, luxury moving company.
Acclaimed Huntington Beach Movers has helped local homes and businesses with moves across the street, across the nation, and across the world for more than a decade. The company has experience with houses, offices, warehouses, retail facilities, apartments, condos, restaurants, and more. Each of their Huntington Beach movers is a seasoned, industry veteran, who goes through regular training to ensure that they can properly pack and move any item. The Acclaimed packing service reinforces boxes for the transition, and includes the disassembly and reassembly of large items, as well as, the construction of custom moving crates for the protection of electronics, flat-screen TVs, artwork, antiques, and other delicate or valuable items. Any transportation is conducted by the Huntington Beach Movers' fleet of cutting-edge trucks, which all come equipped with GPS for efficient navigation. If storage is necessary, Acclaimed has space available for long-term and short-term storage in their massive, state-of-the-art, climate-controlled storage facility.
Acclaimed Huntington Beach Movers continues to provide premium services at economical rates, which allows the company to make a lifelong customer out of each person that they help. Acclaimed has quickly become synonymous with affordability, efficiency, and reliability in the moving industry. With the streamlined website, Acclaimed's incredible services are available to more people than ever before. When it's time to move a home or business, it's time to get a free, no-obligation quote from Acclaimed Huntington Beach Movers.