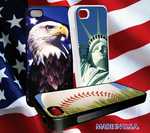 Saint Louis, MO (PRWEB) April 30, 2013
The wait is finally over! It is with great excitement that Pic The Gift announces its new made in the USA custom phone cases. Every component of the newly released phone cases are manufactured in the USA, from the formed plastic all the way to their personalized print. The phone cases are great for photos, logos, or designs. Simply put, it's a blank canvas for your creativity.
Pic The Gift's Made In The USA phone cases have the official "Made In The USA" stamp branded onto the inside of each case, ensuring owners that it was 100 percent made in the United States. In addition to its craftsmanship, each iPhone 5 case has been dipped in an antimicrobial solution to help prevent the transfer of germs. The "Made In The USA" phone cases are truly a GREEN project. Not only are the cases 100 percent recycled material, they are also molded in a high efficiency factory that uses 50 percent less energy than similar factories.
The two cases offered by Pic The Gift, plastic and rubber, are reliable and durable and can withstand almost any environment. The plastic cases are more substantial than the rest of the market and are very sturdy for extra protection. For the rubber cases, instead of having two pieces, they are one solid piece for increased durability.
Pic The Gift gives you the ability to create your own personalized and unique "Made In The USA" phone cover. Their state of the art online design application allows you to use clip-art, upload your own photos, upload your own files, your own designs, and/or your own text. Custom images can be pulled from your computer, Facebook gallery, or other online picture hosting platforms. Customers are even able to choose their own background color by simply clicking the background color box. Pic The Gift also offers customers the ability to add their own personal creative text with over hundreds of different fonts to choose from.
With well over 50 years of experience in the distribution and manufacturing of personalized gifts, Pic The Gift was established to meet the rising demand for personalized products and photo gifts. Strategically placing their manufacturing facility in the heart of the Midwest, specifically in St. Louis, Missouri, enables Pic The Gift to offer expedited delivery service to each of their clients. All products ship anywhere in the United States in less than four days.
All of PicTheGift's manufacturing is done in the United States, under their own roof, and with strict quality standards. While some of the raw material is imported, be assured that 100 percent of their manufacturing is done in the United States and Pic The Gift is doing everything in their power to keep jobs here in America.
For further information on Pic The Gift's "Made In The USA" phone cases and other personalized gifts, please visit http://www.picthegift.com/ or contact 888-407-5008.