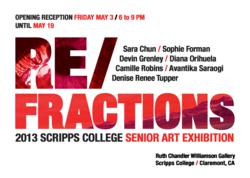 Claremont, CA (PRWEB) April 26, 2013
"Re/Fractions," the annual senior art show highlighting the final thesis projects of graduating studio art majors, will be on display from May 3 to May 19 at Scripps College's Ruth Chandler Williamson Gallery. An opening reception is scheduled at 6 p.m. on May 3 in Bixby Courtyard. The exhibition and reception are free and open to the public.
"Re/Fractions" features paintings, photography and mixed media works on the theme of the body and its surrounding environs and how both change, move and often fracture before mending to become whole again. The exhibition is a juried show displaying the achievements of a diverse and talented group of artists who worked diligently throughout their senior year on the show. In addition to creating the works displayed, the students conceptualize the show, install their pieces, write artist statements and design publicity for the exhibition.
This year's featured seniors are: Sara Chun, Sophie Forman, Devin Grenley, Diana Orihuela, Camille Robins, Avantika Saraogi and Denise Tupper.
The Ruth Chandler Williamson Gallery is located at Eleventh Street and Columbia Avenue, adjacent to Baxter Hall. During the exhibition, the Gallery is free of charge and open to the public Wednesday through Sunday, from 1-5 p.m. For more information, please contact the Gallery at 909-607-3397 or visit the Gallery online.
About the Artists:
Sara Chun: "The Sun Through my Hair"
Sara Chun is from Palo Alto, Calif., and next year she will pursue her interests in community and reproductive health at George Washington University's School of Medicine in Washington, D.C. Her mixed media artwork explores identity, beauty and race. For her artwork, Chun photographed strands of her hair as it covered her face. She took photos of her own hair while outside. In many of those still images, her hair is barely recognizable, which she believes is a way to escape the way others may perceive her.
Sophie Forman: "Chromophilia (2012-13)"
A native of Seattle, Sophie Forman is majoring in art with an emphasis in painting, though she has additional interests in graphic design and art criticism. Her installation consists of six 7-foot-high panels of paintings of abstract space and large figures. These vibrant self-portraits are based around the idea of color as an emotive and psychological agent with the ability to create empathetic figure-viewer relationships and help reclaim the female nude as a painted subject.
Devin Grenley: "Visual Poetic Abstractions: A Close Photographic Rendering of The Female Body"
Devin Grenley is majoring in art and minoring in gender and women's studies. She has also taken a substantial number of psychology courses and plans to get a license in marriage and family therapy. Originally from Seattle, Grenley took a series of black-and-white still images of various body parts so as to reframe the body. Each photo was taken at close range which makes identifying the particular body part very challenging. She wanted her photos to show various body parts in ways never seen before.
Diana Orihuela: "Meshed and Locked"
From Chino, Calif., Diana Orihuela is majoring in art and after graduation hopes to pursue a career in education. She sculpted three pieces made of chicken wire, plaster and plastic outdoor chairs. Each sculpted figure sits in various positions in a chair. One leans back on the chair, the second sculpted piece appears to sit upright and the third piece is inches closer to the edge of the chair, appearing to stand up. The sculptures refer to the conscious ability of the individual to move past the limited constrictions of the body.
Camille Robins: "Our Changing Landscape"
Camille Robins, an art major minoring in environmental analysis, loves to write. In her two-piece installation, Robins includes photographic portraits of three Pilgrim Place residents whom she interviewed over the course of several months, as well as short stories of each. She grew interested in land development after talking to the retirees about the matter and decided to create a visualization highlighting the integration of the state's constructed and natural landscapes. For her second installation piece, Robins, who is from Carpinteria, Calif., worked on a 5-foot-tall mixed-media display of the state.
Avantika Saraogi: "Chromaticity and the Dancing Body"
Originally from India, Avantika Saraogi is a double major in art and dance. She is currently interning at Riff Raff Studio in Silver Lake, Los Angeles, a photography and production house. She hopes to pursue a career in commercial fashion photography. For her artwork, she took a series of colored still images of dancers covered in colored powder. The colored powders exaggerate each dancer's movement, which was Saraogi's intention. The colorful, festive powders reference the Indian festival of Holi, which celebrates spring's promise of a new life and a new hope.
Denise Tupper: "My Family of Women: Celebrating Blackness and Exploring themes of Black Feminism"
A double major in art and gender and women's studies, Denise Tupper painted a series of portraits of close female friends, family members and classmates. She mixed neutral and bold colors for each painting, which are all based on photographs. Her paintings are her interpretations of each photo. Her interpretative paintings are of women between the ages of 8 to 85. Next to each painting, Tupper will include a personal item from each woman. She plans on displaying a lipstick case, a pair of earrings and other items cherished by each woman. Tupper is from Portland, Ore., and she hopes to pursue a career that combines her interests in art, business and sustainability.