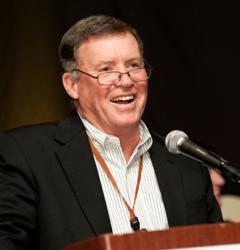 "The whole concept of the Great Game of Business is beautiful - consistency, alignment, & transparency, infused with core values & brought to life with powerful mechanisms. It is inspired and inspiring, a classic," -Jim Collins, author of Good
Orlando, Florida (PRWEB) April 29, 2013
Jack Stack, dubbed "The Father of open-book management," is slated to keynote at the 2013 Leadership Summit, presented by FORTUNE which hosts the top thought leaders, best-selling authors, and practitioners in leadership, strategy, management, HR and execution.
During his keynote, Stack will discuss his business philosophy, "The Great Game of Business" which started a business revolution in the early 90s. He'll explain how his company empowered employees to think and act like owners by teaching them how business works, holding them accountable and providing them a stake in the outcome.
Stack originally gained notoriety in the business world after Inc. Magazine featured the amazing turnaround of his company, now SRC Holdings. With the help of Bo Burlingham, Stack wrote a book about this experience, The Great Game of Business which will be re-released for its 20th Anniversary in July, 2013.
"The whole concept of the Great Game of Business is beautiful - consistency, alignment, and transparency, infused with core values and brought to life with powerful mechanisms. It is inspired and inspiring, a classic," says Jim Collins, author of Good to Great.
The Great Game of Business philosophy has been coined "the most sensible way to run a company". For more than two decades, business leaders have visited Stack's company to learn how to implement the philosophy in their own business.
The 2013 Leadership Summit, presented by FORTUNE will be held May 9-10, 2013 at the Orlando World Center Marriott in Orlando, Florida and will feature other renowned speakers including Verne Harnish and Dan Pink.
About Jack Stack
Jack Stack is Founder, President and CEO of SRC Holdings Corporation, a 100% employee-owned company employing over 1,200 people with sales over $450,000,000.
A pioneer of the leadership model known as open-book management, Stack is the author of two books on the subject: The Great Game of Business and A Stake in the Outcome. His expertise in using the open-book model has helped SRC Holdings Corp. start, acquire and own over 60 small and medium size businesses and created thousands of jobs since 1983.
Jack has been called the "smartest strategist in America" by Inc. Magazine and one of the "top 10 minds in small business" by FORTUNE Small Business Magazine. Jack has served as a contributing editor for Inc. Magazine and contributing business writer for The New York Times.
About The Great Game of Business
The Great Game of Business is the first and most celebrated approach to implementing the business philosophy of open-book management. Originally published in 1992 by Currency-Doubleday, The Great Game of Business has been cited in hundreds of business and text books and is noted as one of the "100 Most Influential Business Books of All-Time".
The Great Game of Business, Inc. was founded in 1990 to provide consulting, training and coaching services to companies interested in implementing open-book philosophies in their own organizations. The Great Game of Business, Inc. has worked with clients such as Southwest Airlines, Whole Foods Market, Harley Davidson and New Belgium Brewing Company.