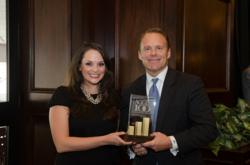 Dallas, TX (PRWEB) April 27, 2013
The Aggie 100 was created by May's Business School's Center for New Ventures and Entrepreneurship to identify the 100 fastest growing Aggie owned and led businesses in the world. The program also offers a forum for networking with other honorees and current students.
The 2012 Aggie 100 was selected from over 800 nominees from a wide variety of disciplines and industries including Oil and Gas, Real Estate, Engineering, Landscaping, Marketing, and more. The Aggie 100 growth rates were highly impressive, especially bench marked against the U.S. economy overall. They ranged from 31% to 206%.
For two consecutive years, Launch Agency was honored to make the Aggie 100 List. For 2012, Launch placed #51 with a 45% growth rate from 2009 to 2011.
"With nearly half of the list being new honorees, inclusion in the Aggie 100 for a second consecutive year is a big accomplishment and honor," said Ashley Mejia, Launch employee and Aggie grad class of '07 who accepted the award on behalf of Launch Principal and Aggie grad class of '84, Michael Boone.
The Aggie 100 sat among current students leaders, university officials and deans as Dan Moran, former Aggie, war veteran and founder of Moran Enterprises, Inc., motivated the crowd as the 2012 keynote speaker.
The list can be viewed in its entirety at http://www.aggie100.com.