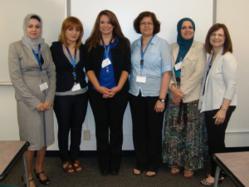 "Our goal is to provide best practices that can be applied to law enforcement investigations and will shape policies to enhance women's rights and reduce violence against women and children in Iraq."
Costa Mesa, CA (PRWEB) April 26, 2013
Vanguard University announced today that it will host a team of delegates from the University of Duhok in northern Iraq for a two-week visit beginning Sunday, April 28. The purpose of the visit is to provide the team with training on ways to reduce violence against women in Iraq.
According to World Report 2012: Iraq published by Human Rights Watch, violence against women is a serious problem in Iraq. The report says that "'honor' crimes and domestic abuse is a threat to women and girls, who were also vulnerable to trafficking for sexual exploitation and forced prostitution due to insecurity, displacement, financial hardship, social disintegration, and the dissolution of rule of law and state authority."
Vanguard University's Global Center for Women & Justice (GCWJ) has been partnering with the University of Duhok in northern Iraq since 2010 to build capacity for women's studies at the University of Duhok. The goal of the higher education partnership between these two universities, which grew to include partnering with the Ministry of the Interior and the three regional Directorates for Combatting Violence Against Women, is to eliminate violence against women in Iraq.
"The success of the recent visit with the Directorate for Combating Violence Against Women prompted Dr. Major Sami Hussein to bring leaders back here to Southern California where they can see actual programs and visit facilities rather than just learn training theory in a classroom setting," says Sandra Morgan, director of the Global Center for Women and Justice. "Together we have an opportunity to impact the regional development of the infrastructure to reduce violence against women in Iraq. This rare but necessary higher education partnership improves community capacity, promotes reconciliation, and contributes to stability in a region in which Americans have invested so many resources."
The trip will include training with 12th District Court Judge David O. Carter, OC Juvenile Justice Douglas Hatchimonji, OC Juvenile Services, OC Child Abuse Special Teams (CAST), as well as three days of training with the Westminster Police Department under the direction of Derek Marsh, acting deputy chief of the Westminster Police Department and former chair of the OC Human Trafficking Task Force.
"The Westminster Police Department welcomes the rare opportunity to provide law enforcement and academic professionals from Iraq with a three-day training symposium," says Derek Marsh, acting deputy chief of the Westminster Police Department. "These courageous delegates are an instrumental part of a multi-year project initiated by Vanguard University and the University of Duhok, Iraq (KRG). Our goal is to provide best practices that can be applied to law enforcement investigations and will shape policies to enhance women's rights and reduce violence against women and children in Iraq."
The team from Iraq includes the directors of all three KRG Regional VAW Directorates as well as the director of the Ministry of Interior, legal and academic scholars from the University of Duhok, and Victim Service directors.
For more information about the Global Center for Women & Justice, please visit http://gcwj.vanguard.edu/.
###
ABOUT VANGUARD UNIVERSITY
Vanguard University (VU) is a regionally ranked, private, Christian university of liberal arts and professional studies. Located ten minutes from Newport Beach and an hour from Los Angeles, Vanguard equips students for a Spirit-empowered life of Christ-focused leadership and service. Vanguard is committed to academic excellence, boasting small class sizes that are designed to cultivate lasting professor-mentor relationships that enhance the learning process. Ranked annually by U.S. News & World Report as one of the top 10 colleges in the west since 2010, Accredited by the Western Association of Schools and Colleges (WASC), Vanguard offers more than 30 degrees and certificates through its undergraduate, graduate, and professional studies programs.
ABOUT THE GLOBAL CENTER FOR WOMEN AND JUSTICE
The Global Center for Women & Justice at Vanguard University is a faith-based organization that exists to advance the global status of women through research, education, advocacy, collaboration and hope. The Global Center for Women & Justice promotes gender reconciliation and the inherent dignity of all persons.