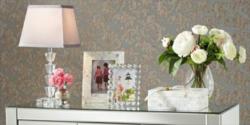 This Mother's Day, there is a home decor gift for every room in the house.
Los Angeles, California (PRWEB) April 29, 2013
Each second Sunday in May, the nation honors its moms. With the annual holiday just around the corner, Lamps Plus announces Mother's Day home decor gift ideas based upon the freshest in spring trends.
"Consumers traditionally gravitate toward domestic gifts like food, flowers and household items," explains Manja Swanson, Chief Creative Officer for Lamps Plus. "With more than thirty years in the lighting and home furnishings industry, there's one thing we've discovered in Mother's Day gift giving. Whether your mom prefers chats over tea in the kitchen or movie nights on the couch in the living room, there are perfect decor gifts for every room in the house."
Moms are typically the keepers of family history, and the living room is generally the place to put that history on view by using keepsakes, framed photographs and albums. "Recent hot-sellers include crystal and mother of pearl picture frames," says Swanson. "Add a family photo and these decorative picture frames become a loving homage to mom and family."
For families in which mom is the primary cook, the dining room is often center stage, the place where she unveils her finest work. "Crystal candlesticks are classic, elegant, and feminine – just like mom," continues Swanson. "And the luxe look of crystal or glass is extremely popular right now."
From breakfast in bed to a champagne brunch, Mother's Day is a time during which moms are not in the kitchen. "If you do give her a kitchen gift this Mother's Day, give her a reason to relax," suggests Swanson. "Cups, saucers, cake stands, and an elegant ivory porcelain teapot are perfect companions to a soothing cup of coffee and conversation." These entertaining and dining accessories are also essential when guests visit.
"The powder room is mom's in-home getaway," says Swanson. "It's a place to relax, indulge and beautify. Spoil her with an assortment of pretty vanity items like decorative decanters for lotion and perfumes, or sophisticated scented candles with jeweled accents." A comfortable bathroom or powder room begins with a beautiful complement of these and other decorative home accessories.
Last on the list of rooms is the bedroom. "Mothers do so much for the family. When it comes to bedroom home décor, gift ideas for mom should lean towards comfort." Plush throw blankets add fresh style to the bed and can be used during movie nights on the couch. "Pair a blanket with a couple of accent pillows for a mini bedroom makeover."
Moms today are smart, stylish and motivated. Concludes Swanson, "despite the ever-increasing number of mothers in the workforce, our moms are leaned-on to be the stewards of the home, more often than not. By looking to the hottest home decor trends – from decorative picture frames to candles – their spouses and children can help transform home-making into a family-wide affair!"
ABOUT LAMPS PLUS
For more than 30 years, Lamps Plus has been synonymous with excellence in the retail lighting industry. Established in 1976, Lamps Plus is the nation's largest specialty lighting store, with more than 40 superstores throughout the western United States. Together with their retail locations and online business, Lamps Plus serves customers nationwide with the largest selection of functional and decorative lighting fixtures, accessories, furniture and home decor. This selection includes hundreds of products, ranging from traditional chandeliers to the latest home accessories, available exclusively from Lamps Plus. Services include in-home lighting consultations, in-store workshops and installation from expert, licensed electricians. American Lighting Association certified designers are available to offer product recommendations and advice in all our stores, by phone or online at LampsPlus.com. The Lamps Plus family of websites also includes 55 Downing Street, Lighting Luxury Style, Builders Discount Lighting, and Lamps Plus Open Box. Visit the official Lamps Plus website: http://www.lampsplus.com.