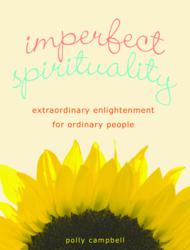 "Powerful and well-written."

–The Daily OM
(PRWEB) April 26, 2013
Polly Campbell, author of the best-selling Imperfect Spirituality, shares a beautifully simple manifesto of self-love on Inspire Me Today. Campbell insists that people do not need to change themselves to be happy; they need only change their mentalities.
In her appearance on Coast to Coast AM, Polly shares her own story of overcoming physical adversity through turning to spiritual and emotional development. She warns against falling into the "perfect trap" and expands upon the idea of perfection in imperfection. Campbell also delivers a timely message of how to deal with feelings of stress and anxiety in the wake of tragedy (like the Boston Marathon bombing). She suggests that creative endeavors, as well as simply breathing mindfully, can make a powerful difference in stress levels.
Polly Campbell is a professional speaker who specializes in personal development and spiritual topics. A blogger at ImperfectSpirituality.com and PsychologyToday.com, she teaches on the Daily Om as well. For more than two decades, Polly has studied and applied the techniques she writes and speaks about to her own life. She lives with her family in Beaverton, Oregon.