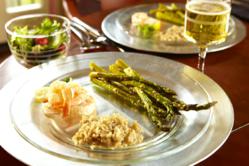 sit at the grown-ups' table
Eugene, OR (PRWEB) April 29, 2013
Elegant Portions is the new identity for Wine-Trax® of Eugene, Oregon, a business dedicated to helping individuals reach their wellness goals through portion-control. Originally named for their signature measuring wine glass, they've "grown up" in response to customer demand by adding products that comprise the most refined dinnerware collection in the industry. Elegant Portions has attracted national attention, paradoxically, for their discreet approach to sensible eating.
Portion-control is a unique niche market in the wellness industry which is gaining popularity as boomers grow older and the population grows rounder. The dinner plate increasing in diameter and excessive restaurant super-sizing are contributing to the nation's obesity epidemic. Legions of health experts and the USDA My Plate program are recommending a move toward eating healthy foods in scaled-down serving sizes versus restrictive or fad diets. This shift brings the portion-control industry to the forefront and manufacturers are providing a variety of solutions.
For dinnerware specifically, there are plates picturing potatoes, fruits or a turkey leg; plates with writing to tell which-food-groups-go-where and plates with reservoirs like school lunch trays. There are even novelty wine glasses with serving sizes and fun quotes written on them. Amusement aside, these tools deliver when it comes to serving sensible meals in less time by eliminating the need for measuring and weighing. With the great assortment available, one collection stands out for its subtlety. Elegant Portions presents a table setting that is barely discernible as portion ware, allowing diners to now "sit at the grown-ups' table", according to owner/designer, Gail Curtis.
Gail personally hand-etched the first 250 pieces, with frosted portion lines on clear glass indicating serving sizes without obvious images or writing (glasses are now manufactured with a baked-on "satin etch" finish) . This unique aesthetic has brought attention to her signature product, Wine-Trax® the measuring beverage/wine glass, with reviews in national magazines, TV and blogs; currently appearing in Consumer Reports On Health Newsletter, the May 2013 issue. Besides health-conscious individuals, professionals nationwide are promoting the collection of Trax products to their patients for health and wellness issues including obesity, diabetes and weight control. Products can be discovered at Cleveland Clinic Wellness, in the offices of nutritionists and dietitians, at spas, health clubs and at limited retail and virtual locations. They can also be found at the newly designed website, http://elegantportions.com.
Elegant Portions (previously Wine-Trax®) is nationally known for delivering attractive and uniquely discreet portion-control products to customers nationwide, including health professionals. The owner/designer, Gail Curtis began the business in 2009 to address her own wellness goals, and is overjoyed to help others succeed with theirs. For additional information on the collection of Trax products, visit http://elegantportions.com, or contact Gail directly.
Contact Information:
Gail Curtis, Owner/Designer
Elegant Portions
gail(at)elegantportions(dot)com
office: 541.505.9454
cell: 541-680-9557