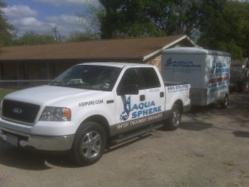 San Carlos, CA (PRWEB) April 29, 2013
Pionetics® Corporation announces a new Dealer in Texas. Aqua Sphere Water Treatment Systems, operating out of Burnet, Texas, has recently signed on as Pionetics' newest LINX® Drinking Water System Dealer.
Aqua Sphere provides water softener and filtration services, as well as salt free scale remediation to customers in the entire Austin and Central Texas Hill Country. Read more about this newest dealer at http://www.asipure.com/.
Alan Branson, Owner of Aqua Sphere, learned about the LINX system from a fellow water treatment professional. Branson was impressed by the water savings offered by the LINX drinking water systems as compared to the traditional reverse osmosis filters. Branson explains, "The LINX system produces RO-quality water while providing a vast reduction in water waste. To me, that's a great leap in technology." Branson continues, "But it was the LINX Dial-A-Taste® system that really impressed me. No other system does this and that makes LINX technology something very special."
According to H. Martin Jessen, Vice President of Pionetics Corporation, "It is reported that Lake Travis water levels drop two inches a day. Clearly water conservation is an important issue in the Austin and San Antonio area." Jessen continues, "Did you know that just 47 homes using standard ROs would waste one (1) acre foot of water a year using only one (1) gallon a day if their ROs had only 5% recovery. That's a lot of water. LINX could make a huge impact here in Texas. Aqua Sphere is known for customizing highly effective water treatment solutions (such as their salt-free conditioners) that are also better for the environment, yet superior to competitors' systems. This philosophy makes them ideally suited to be effective LINX dealers."
As a new dealer, Branson is still in the process of informing his customers about the LINX systems and their benefits. He plans to promote the LINX Systems on his website http://www.asipure.com/. "We tested several LINX systems and we were impressed with the results. Austin is a high tech community. Our consumers want the latest in technology, but they are also very sensitive to environmental concerns, and very conscious of what they consume; that's exactly why LINX systems are ideal."
Aqua Sphere is a family owned business. Alan and his wife Tammie Branson are proud of the fact that four daughters and two sons have worked with them at Aqua Sphere.
Many years ago, Alan became interested in contaminants in drinking water while serving as a rescue man and hazardous materials technician. The deeper he dug, the more fascinated he became with water treatment. He changed careers and began working for some of the largest water treatment companies in the country.
Twelve years ago, he started his own business and launched Aqua Sphere. Since then, Branson served as President of the Texas Water Quality Association and Aqua Sphere has become a leader in the community; not only serving their customers, but also supporting the community during events and fund drives.
Pionetics is currently signing new distributors and dealers. LINX technology is also available for integration with existing systems. Anyone interested in the LINX technology, or in becoming a distributor or dealer anywhere around the world, should contact H. Martin Jessen at 480-836-0887.
About LINX Products:
LINX Drinking Water Systems are available in two Under-the-Sink models or as a Bottleless Water Cooler. The systems allow for several important and unique features not offered by any other drinking water system:

Significantly less water waste than Reverse Osmosis (RO) – see the video Insane Water Waste,
Operates using programmable software and display indicator lights that provide the consumer with detailed yet simple information about the system status – see how the system operates in this video, Super High Tech, Super Low Waste Drinking Water System
Dial-A-Taste® Control that allows the consumer to customize the taste of their drinking water for more or less mineral content.
Field Service Assistant which enables the technician to reprogram the LINX unit based on feedwater quality, further optimizing water recovery rates, customizing the system's performance, and maximizing effectiveness and efficiency.
Simplicity of installation and servicing of the equipment.
About Pionetics Corporation:
Pionetics is an innovative water technology company that develops smart water treatment products that produce great tasting, safe drinking water with less wastewater than traditional water treatment systems. Pionetics is privately owned and financially backed by Kline Hawkes & Co, NGEN Partners, and Unilever Technology Ventures Fund.
Pionetics is located in San Carlos, CA. To date, Pionetics has been issued over 50 patents worldwide to protect its proprietary know-how and innovative technology.