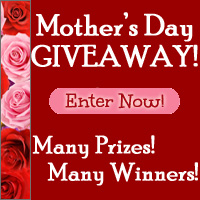 Seven moms join together to give people around the world an opportunity to give their mom something nice for this Mother's Day.
(PRWEB) April 26, 2013
There is no doubt that Mother's Day is a very popular gift-giving occasion. This year, the authors of The Blogger's Survival Guide along with Wayman Publishing's editor, Elisa Hirsch, and 4 active mom bloggers, join together to give people around the world an opportunity to give mothers something nice for Mother's Day.
The idea came from Lexie Lane, the author of The Blogger's Survival Guide and head of the online parenthood community, voiceBoks.com. Parent bloggers are growing in numbers worldwide and taking advantage of every available online opportunity. This giveaway is centered around Lane's book, a helpful guide to gaining information about every tidbit of technical as well as business growth in blogging.
In a post written on FamousBloggers.net, Lane writes, "Every avid blogger strives and wishes for that big break. It is possible, but it comes with a lot of hard work and being able to understand what it takes to get to that point of interest, where others will start to listen to what you have to say. For the moment, your blog is like a needle in a haystack. It's amongst millions of other blogs around the world that need to have a certain level of 'rank' before it can be found."
The book was written to help bloggers eliminate time wasted on trying to figure out the small stuff so they can focus more on blogging and the fun of it all, including promoting.
In an effort to spread the word about the new guide to blogging, 7 moms promote a giveaway to honor motherhood on that special day of the year when people can show mothers appreciation and support.
The Mother's Day giveaway gives the entrants options to select one or all of the links provided for 7 different prizes. Entrants may choose to enter 1 giveaway or all 7. There are cash prizes, gift certificates, and more here: voiceboks.com/celebrating-mothers-day-2013/