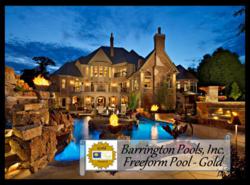 To receive seven awards this year, speaks to our ability to design and build the best pools in Chicago.
Chicago, Illinois (PRWEB) April 29, 2013
Leading Chicago pool builder, Barrington Pools is thrilled to announce that it has received seven awards from the international Master Pools Guild association. These award winning pools include some of the top residential swimming pools that it has built in Chicago during the past year. Master Pools Guild is an elite organization of more than 110 pool builders from around the world, Barrington Pools is the only Master Pools Guild member in Illinois.
Michael Murillo, Sales and PR Director for Barrington Pools shares, "We appreciate any time that our 40 year old family run company receives awards, but to receive seven this year from the Master Pools Guild is a great honor since it comes from industry peers and speaks to our ability to design and build the best pools across the Chicago area, including Northern Illinois, Southern Wisconsin, and Northwest Indiana."
Pool Design Awards Received Include:
1. Gold - Freeform Pool
2. Gold - Attached Concrete Spa
3. Silver - Traditional Pool
4. Silver - Freeform Pool
5. Silver - Classic Pool
6. Bronze - Traditional Pool
7. Bronze - Freeform Pool
PreFormatted Tweet:
@BarringtonPools receives 7 awards for swimming pool designs in #Chicago from @MasterPools. Learn more: http://bit.ly/180m3L0.
For more information about Barrington Pools, please visit Barrington Pools' website at http://www.barrington-pools.com, or contact Heather Hills (heather(at)mhnpr(dot)com) or call: 630-233-8336. Barrington Pools is also available to speak or provide background for stories relating to: pool safety, health benefits of swimming pools and spas, trends in the luxury home market, and outdoor kitchen design.
About Barrington Pools:
Chicago based Barrington Pools designs and manages the construction process to provide outdoor living possibilities customized for homeowners and commercial clients that need the best quality and technology in swimming pools, spas, patios and landscapes. Barrington Pools turn-key design and construction services are supported after installation by maintenance plans. Please visit us at http://www.barrington-pools.com for more information.
###