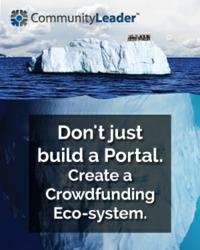 San Mateo, CA (PRWEB) April 26, 2013
Joseph Barisonzi, CEO of CommunityLeader, Inc. announced today that the company has secured the capital resources to provide financing for the development and launch of qualified crowdfunding portals. "Our complete portal solution provides a community-focused business professional or organization everything they need to launch a compliant crowdfunding portal," said Barisonzi. "As of today, no longer should cash flow be the barrier to building a crowdfunding portal."
"Launching a crowdfunding portal is much more than an investor-facing website," stated Jennifer Amys, CommunityLeader's CIO. "It is about having the systems in place to effectively solicit and promote a qualified investment opportunity to a qualified investor, manage the settlement and fulfillment process, and then provide transparent ongoing support. A CommunityLeader crowdfunding portal has the power to manage all of the required and necessary steps."
CommunityLeader's financing option provides qualified portal partners the opportunity to minimize their upfront financial outlay so they maximize the resources they have for recruiting quality businesses and educating investors. CommunityLeader is offering three financing packages designed for individuals and organizations seeking to launch an integrated community-based crowdfunding portal.
"Everyone who wants to launch a portal has to consider whether to build their own system or to partner with an experienced platform provider," said Scott Bachman, CommunityLeader's CMO. "The CommunityLeader Portal Platform solution makes this an easy choice. For probably less than 20% of the cost of building out a proprietary solution, we can deliver a personalized portal with everything needed to solicit and sell securities in today's regulatory environment."
CommunityLeader is seeking portal operators who have deep connections in their chosen community. Communities may be geographic, industry, affinity or business model; and will evaluate qualified operators on depth of their business plan and their personal and professional attributes. With as little as 15% down, CommunityLeader's financing packages cover the upfront license fee, configuration, custom development and training.
CommunityLeader is an industry leading full-service provider of custom and private-labeled crowdfunding platform solutions for individuals, organizations and businesses seeking to sponsor, host and run their own crowdfunding portals. For more information on how you can launch and finance a portal, go to: http://portal.communityleader.com/iceberg or call 866-516-8922.