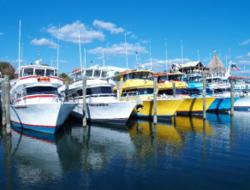 TripShock.com is now offering discounts on its most popular deep-sea fishing charters.
Destin, Florida (PRWEB) April 27, 2013
The Florida Fish and Wildlife Conservation Commission (FWC) extended the recreational Red Snapper season at its April 2013 meeting in Tallahassee, FL due to an increase in species population. The Destin, FL season is now set to run 44 days, from June 1 to July 14. The ruling applies to state fishing waters, which are 9 nautical miles from shore into the Gulf of Mexico. The fishing season in federal waters is estimated to run just 21 days.
TripShock.com assists travelers with booking fishing charters in Destin, FL. Experienced captains are prepped for the extended season and up to date on the latest rules and regulations. The travel-booking website is now offering discounts on two of its most popular deep-sea fishing charters.
Deep Sea Fishing Party Boat in Destin: Olin Marler Fishing Charters boasts one of the oldest and most reputable fishing fleets cruising along the Emerald Coast. Temperature controlled cabins, onboard restrooms and a professional crew ensure a comfortable trip for experienced fisherman and amateurs alike. Timothy McCullar of Pensacola, FL said, "We highly recommend TripShock for booking your next fishing trip. Everyone from booking, reservations, and the people running the fishing tour gave excellent customer service." TripShock.com is offering $5 off the purchase of each Deep Sea Fishing Party Boat ticket.
Destin Party Boat Fishing Excursion Aboard the Vera Marie: The Vera Marie is a 75' vessel that features a walk around deck and a temperature controlled cabin complete with flat screen TVs, comfortable seating, a sports bar, and a host to attend to guests needs. Reservations come standard with bait, tackle and licensing, and the crew filets each catch in exchange for tips. TripShock.com is offering a $49 booking special for a 6-hour deep-sea fishing trip aboard the Vera Marie.