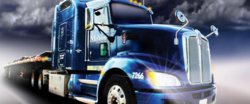 Tulsa, Oklahoma (PRWEB) April 26, 2013
With the simple objective of connecting today's talent pool with immediate on-line access to the best and most current truck driving positions across North America, TruckingUnlimited.com has become known as the "one-stop on-line shop for trucking jobs", benefiting both applicants and employers. It is among the industry's strongest examples of how specialty job sites now offer employers the best of both worlds; internet capabilities allowing immediate, unlimited exposure to a niche demographic of today's truck drivers, (who want immediate access to the best available jobs). TruckingUnlimited.com is not only successfully meeting what the current truck driver shortage demands, it is revolutionizing the trucking industry's approach to recruiting overall.
Driving a successful business since 1954, Melton Truck Lines credits their continuing success to their ability to change with the times. Whether it's responding to the changing needs of customers, evolving operations to satellite communications, expanding their service to all of North America or partnering with the expertise of on-line recruiting sites – Melton remains committed to maintaining their status as the industry's leading flatbed carrier and one of the most dependable international operators around. With their fleet of modern, safe, and well-maintained equipment, Melton Truck Lines prides itself as being uniquely 100% air-ride, providing over 5000 shippers with a consistent, on-time 98% pick-up and delivery record.
The company is also aware that their drivers are the most vital part of their service, above everything else. Melton is as committed to retaining a top notch team of drivers as they are to keeping their top paying customers and will go to great lengths to ensure drivers are rewarded for their hard work. Through exceptional base pay, tarp pay, benefits, as well as bonus and recognition programs, Melton Truck Lines has a long renowned history of setting the standard in Driver Compensation. In fact, in a survey conducted by the National Survey of Driver Pay, positioned Melton in the Top 5% Pay for all companies nationwide!
With their average drivers making $50,000 per year and their new recruiting partner TruckingUnlimited.com, Melton Truck Lines should be able fill their immediate flatbed driver positions in no time at all.