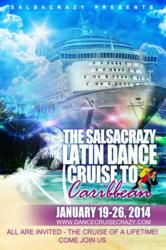 All the fun and adventure of a regular cruise, plus all the spice and excitement of a dance cruise, with the extra passion of salsa dancing, all gone SalsaCrazy
San Francisco, California (PRWEB) April 26, 2013
From the the crazy and fun people who brought you SalsaCrazy, the go-to site for news and information about salsa dance throughout the world, come DanceCruiseCrazy.com, the ultimate site for information about dance cruises, dance travel, and specifically salsa dancing cruises to exotic destinations.
"There's nothing more fun than getting a bunch of people together who share a love for salsa dance," said Salsa Crazy president Evan Margolin. "It's great when we can get together in the Bay Area, and it's great to take a regular cruise, but it's even better when we can all go on a dance cruise dedicated to salsa dancing, to beautiful places, and dance our vacation away."
DanceCruiseCrazy.com gives visitors all the information they need to know about salsa cruises to exotic ports of call. The website offers dancing travel options that combines a love of travel with a love of dance.
"A salsa dance cruise is the ultimate combination of gorgeous destinations, a wonderful cruise ship and the best of entertainment and dance that the world has to offer," Margolin said. "We definitely don't want anyone to miss the boat, so we have dedicated a whole website to cruising information."
SalsaCrazy has put on several successful salsa cruises and knows how to throw a great party. These weeklong excursions are truly hand crafted adventures that cruise goers will never forget. From dancing beginners to dance aficionados who love to dance, you won't want to miss DanceCruiseCrazy's fabulous packages on Carnival, Royal Caribbean and Norwegian Cruise Line cruise ships.
DanceCruiseCrazy is not limited to salsa or latin cruises, but also has a ballroom dance cruise and other style of cruises that appeal to a wide variety of dance styles.
"These cruises are a great opportunity for those who love to dance and who love to travel," Margolin said. "It's really the best of both worlds. You get to see beautiful locations, travel to exotic places you may never have been to before, dance all you want and meet a bunch of people who enjoy dance as much as you do."
A dance cruise includes classes, demonstrations, lots of dancing, and plenty of time for sightseeing as well. The food is top-notch and the instructors are some of the best out there. It's just like a regular cruise, gone SalsaCrazy.
"Everyone has such a wonderful time on the salsa cruises," Margolin said. "We get many couples that come back year after year. It's really great to meet nice people who share your interest in dance and who can remain friends when you get back to land. It's a life-changing experience for all involved."
For more information on upcoming cruises, visit http://www.DanceCruiseCrazy.com .
Margolin shares his passion for salsa through numerous ventures, including DanceCruiseCrazy and SalsaCrazy.com, the ultimate news and information source for salsa events in San Francisco and the Bay Area. He is also the president of Dance SF, the Bay Area's hottest salsa dance studio, and he teaches the world to dance through his Learn to Salsa DVDs, available at http://www.SalsaDanceDVD.com.