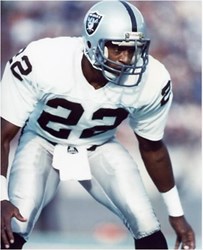 San Diego, CA (PRWEB) April 26, 2013
Part of the "Tackle Sleep Apnea" campaign, carried out by Pro Player Health Alliance (PPHA) and successfully treated NFL players past and present, is traveling across the country to promote Sleep Apnea awareness. Many people are unaware that they need to seek treatment as it has become customary for individuals to feel tired throughout the entire day. This is due to the stress put on the body from not being able to breathe for up to 10-15 times per hour while asleep.
Mike Haynes is considered, by many, to be one of the best corner backs ever to play the position. Mike Haynes, a nine-time Pro-Bowl defensive back of the National Football League and member the NFL Hall of Fame, was known for his quickness and range of motion when he played for the New England Patriots and the Los Angeles Raiders. Unfortunately Mike was unable to avoid prostate cancer which is believed can be triggered by low oxygen levels, one of the many serious complications that come with sleep apnea. Mike officially announced that he will be helping to educate the public on the effects of sleep apnea.
Mark Walczak, former San Diego Charger, suffered from severe sleep apnea prior to being treated. His best friend and old teammate, Junior Seau, who is tragically no longer with us, suffered from sleep disorders as well. This is just one of the reasons Walczak is so passionate about helping to spread awareness.
Dr. Brad Eli, who is hosting the next PPHA event, is one of the country's most experienced and well-known doctors. By providing all solutions to sufferers of sleep apnea that are available on the market, Dr. Eli will find a way to treat any patient. Dr. Eli says, "We want 2013 to be the year we raise awareness of sleep disorder breathing to the community of women and men." The passion behind Walczak and Haynes along with the organization and knowledge of Dr. Bradley Eli will make the next PPHA event one of the most successful yet in terms of spreading awareness and getting individuals treated.
Registration for this event is free to the public.You can keep up-to-date on upcoming events by following Pro Player Health Alliance on Facebook and see when PPHA will be rolling into a city near you!
Event Details:
Date: May 21, 2013
Time: 7:00 PM
Location: Scripps Schaetzel Center, 9890 Genesse Ave La Jolla, CA
About Pro Player Health Alliance
The Pro Players Health Alliance (PPHA) is an organization dedicated to helping former NFL players, through providing testing and treatment options for those who suffer from sleep apnea. In addition, the PPHA is dedicated to integrating education and raising sleep apnea awareness, in a fun and memorable way. In addition to the campaign, the PPHA is dedicated to testing and getting people treated who suffer from sleep apnea. The PPHA was created by David Gergen, President of Gergen's Orthodontic Lab and Former NFL legends.
About David Gergen
David Gergen, CDT and President of Pro Player Health Alliance, has been a nationally respected dental lab technician for over 25 years. He received the award for "The Finest Orthodontic Technician in the Country" given by Columbus Dental in 1986. He also has been appointed chair of the dental wing of the American Sleep and Breathing Academy a national interdisciplinary academy dedicated to sleep training and education with over 60,000 members. David rolled out of bed on September 12, 1981 and had his career "ah ha" moment. He knew he was going to be an orthodontic technician and he knew he was going to help people all over the country to help treat their sleep disorders in partnership with their dentists. He has worked for some of the pioneers in the orthodontic and sleep dentistry fields. He was the personal technician for the likes of Dr. Robert Ricketts, Dr. Ronald Roth, Dr. A. Paul Serrano, Dr. Clark Jones, Dr. Harold Gelb, Dr. Joseph R. Cohen, Dr. Rodney Willey, Dr. Allan Bernstein, and Dr. Thien Pham. One of his proudest achievements is receiving The National Leadership award for Arizona Small Businessman of the Year in 2004.