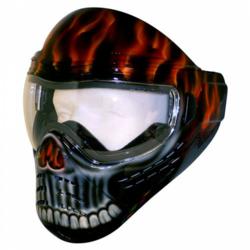 face and eye protection is a must when playing airsoft
Pacoima, California (PRWEB) April 29, 2013
AirsoftRC.com, a preferred source for RC toys and Airsoft guns has today announced important airsoft safety information for players regardless of age or playing style.
Airsoft is a real-life battle simulation game played with specific airsoft guns and plastic BBs. The sport is enjoyed around the world, and has grown very quickly in the last few years, even bringing many paintball enthusiasts into the fold. Both Electric airsoft guns and gas-powered airsoft guns are used, and a variety of BB types can be found through AirsoftRC.com for different playing styles and shooting needs.
While airsoft is a non-lethal game, safety precautions must be taken to protect against the chance of injury. Airsoft BBs are fired at high speeds, and can cause damage to unprotected eyes. They can also cause harm if the gun is fired too close to an unprotected body part.
AirsoftRC.com recommends that all players invest in safety equipment, regardless of their age, their skill at the game or their playing style. Vital airsoft safety equipment includes quality eye protection (goggles), a helmet, a protective vest and both knee and elbow pads. Players should ensure that safety gear is worn at all times if airsoft guns are present, regardless of the status of the game (live, pre or post-game).
Additionally, AirsoftRC.com urges all players to practice commonsense safety precautions while on and off the field of battle.

Never transport airsoft guns loaded.
Never engage in an airsoft game where bystanders or passersby may be present.
Never fire point-blank at another player.
The company also recommends that all airsoft games be played in legal venues, or on land where express permission of the landowner has been given.
To learn more about AirsoftRC.com, the sport of airsoft or to purchase airsoft guns and equipment, visit the company at http://www.AirsoftRC.com.
About AirsoftRC.com: AirsoftRC.com was founded to provide customers with access to the large selection of RC helicopters, RC Cars, airsoft guns and accessories possible. The company takes great pride in ensuring there's a price point that will appeal to all buyers, and in providing outstanding dedicated customer service at all times.