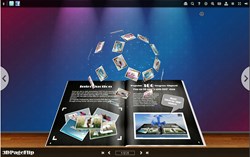 (PRWEB) April 26, 2013
Recently, 3Dpageflip.com, the leading provider of ebook creation tools, has launched its new page flip software which creates high quality flip books in no time. This new and improved flip page software is made available at inexpensive rates.
3DPageflip.com has been working to offer the best digital printing media solutions for its customers. Its flipbook software may be the best one available in the market. The software creates real time 3D books. In addition to this, it also supports a wide range of file formats which include PDF files, Microsoft Office formats of Word, PowerPoint and Images.
The website states, "3DPageFlip can be used to create digital newspapers, business brochures, e-magazines, product catalogs, image albums or and other types of eBooks. Customers can also make custom modifications with powerful editing options the software features."
In addition to this, the software offered by 3Dpageflip.com has several useful features and a very user friendly interface that lets the customers create flip books quickly without any hassle.
The company has years of experience in developing industry useful software programs and this experience has been used to create high quality flipbook software which creates exceptional quality ebooks.
3DPageFlip Software Co., Ltd is a software development company which was established in the year 2008. It has its headquarters in China and it specializes in supplying professional flip book software tools.