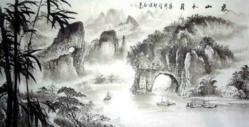 (PRWEB) April 26, 2013
Recently, Artisoo.com, a leading supplier of Chinese paintings, has presented its awe-inspiring paintings. These paintings are available at customer friendly prices.
Artisoo.com is a leading supplier of original and reproduction oil paintings and especially Chinese paintings. They have promoted their Chinese painting collection by offering massive discounts on most of the paintings in the series. The paintings are organized in the following groups: Landscape, Birds & Flower, Figure, Animal and Calligraphy paintings. Any painting can be bought online at very affordable price.
The language of art is universal and when artists master their art the paintings they create can be understood by everyone with taste. Artists use paintbrushes and canvas to depict a colorful world of their innermost thoughts. Chinese art is culturally rich and occupy a unique place in art round the globe, and Artisoo.com has huge collections of Chinese paintings to cater to a wide range of tastes. People love this online art store for its collection and prices.
Landscape painting is a major focus of Chinese painters and Artisoo.com has over a thousand original Chinese landscape paintings. Birds and flowers paintings have been another specialty and are rich with symbolism and meaning. Among the oldest forms of Chinese art is the Figure Paintings of Buddha and ancient emperors. Good luck and religious overtones are the hallmark of Chinese Animal Paintings and the Chinese horse paintings are very famous. An art, unique to the Chinese, is Calligraphy and these beautiful pieces of art have developed over 8000 years.
Artisoo.com was set up in 2009 by Vincent and Zachary to promote all types of paintings including Chinese paintings to art lovers worldwide. They have a team of talented painters who help create realistic reproductions which can also be customized, if so required, by changing colors.