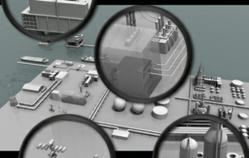 (PRWEB) April 29, 2013
Known for providing the best interactive, creative design and integrated solutions,
Off-Road Studios offers various 3D and animation services to the Oil and gas industry.
Off-Road Studios recently developed 3D process animations for one of the renowned names in the oil and gas industry, Kepware.
The 3D process animations developed by off-road studios highlighted the three major components of the Oil & Gas industry: upstream, midstream and downstream.
High quality videos, animations and illustrations show case the different processes in the industry which help in communicating and explaining complex processes to both technical and non technical users. Off-road studios uses a blend of communication skills, 3D expertise and balanced aesthetics sense along with the best software tools to come up with visually compelling and informative graphics.
The team at Off-Road Studios makes a collaborative effort to translate complex processes into simple and attractive visuals by keeping in mind the sensitive details of the project.
Furthermore, Off-Road Studios provides interactive 3D simulations and user-controlled interactive 3D applications for web as well as mobile, which can be utilized for training purposes, better demonstration of SOP's. These precise and clear technical illustrations give life to an idea with complete range of 3D modeling and animation services
For more information about Off-Road Studios, their expertise and their how 3D animations development team can work for you, check out their website or connect with them on Facebook or offroadstudios on Twitter.