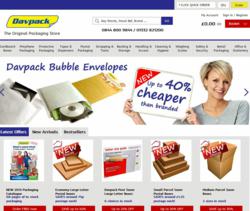 the easiest, fastest and most reliable packaging buying experience
(PRWEB UK) 28 April 2013
The new website is based on the latest .net generation, which combines fast loading and secure ordering with new interactive features, such as social media feeds, customer reviews and product videos.
Davpack has probably the biggest range of in-stock packaging materials available in the UK, and so a strong emphasis has been put on the internal search engine, result filters and intuitive menus. For instance, searches on cardboard boxes can be filtered by style of box and then by size range, which dramatically speeds up the buying process when Davpack has more than 600 cardboard box size options in stock.
One of the main new features is the automatic online discounts across over 3,500 packaging essentials, in conjunction with clear pricing information and transparent VAT and delivery charges, so assuring the customer a 'what you see is what you pay' experience. The live mini shopping basket keeps customers informed on every page and ensures a rapid checkout process.
Regular users who want to repeat an order can either click on a previous order to add products to their basket, or use the speedy '1 Click Quick Order' facility to enter the product code and order their packaging materials in less than a minute.
The team at Davpack has also put their money where their mouth is when it comes to reputation, with a home page feed from the review site Trustpilot, where customers can write anything they like about their experience of shopping with Davpack. Fortunately for Davpack, they have maintained an industry leading 5-star 'Excellent' rating, which provides the ultimate reassurance on quality, service and speed of delivery.
Davpack's Managing Director Barney Byfield described the ideal online packaging shopping experience and how Davpack's new website helps make it easy for customers: "Davpack is the original packaging store, because we were the first UK packaging suppliers to develop an online shop, and then enhance it to a full online experience. At that time, people had dial-up internet connections and were getting used to shopping online, so the site had to be lightweight and secure.
"Today, technology has moved on, and people are far more interactive online, and less patient. So we feed customer experiences and live conversations into the new website, and provide easy-to-use search and filtering to find products and a shorter checkout process to simplify and speed up buying.
"Davpack has always provided the easiest, fastest and most reliable packaging buying experience – our Trustpilot reviews and 'Excellent' rating prove that. This new website makes it easier for customers to navigate Britain's best choice of in-stock packaging materials, order speedily and track an order which is normally dispatched the same working day to arrive the next day.
"The simple result is that our customers can concentrate on the important business of running their companies, not searching for or chasing their packaging."
Davpack has almost 4000 packaging products on offer through its website, most of which are available for immediate dispatch and next working day delivery. For more information, visit http://www.davpack.co.uk or call 0844 800 9844.