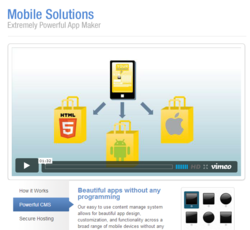 Singapore, Singapore (PRWEB) April 28, 2013
Conversion Hub Marketing has launched a new mobile app platform that allows small and medium companies in Singapore to create their own mobile apps or mobile website without programmers.
CHM Mobile App Platform allows users to easily create a customized app through a web-based content management system (CRM).
Users can create the mobile app without writing any code thus enabling developers and non-developers alike to create native, high performance apps. Apps are built by visual drag, drop and configure technology. This means that companies can utilize any staff with any ability and skill level to build complex, high performance native mobile apps for both iPhone, Android and on HTML5.
No mobile training in Objective-C or Java is necessary. Even non-technical employees in HR or marketing can create their own app without waiting for IT. This is a major empowerment to all business divisions and in mobile marketing.
Additionally multilevel lists make apps layout clearer and easier to navigate, increase performance and simplify mobile app layout and navigation.
In addition to its power content management system, CHM Mobile App Platform has over 500 modules and customization features, including but not limited to :

Unlimited Push Notification Panel
GPS Loyalty Coupons
QR code coupons
Social Media Integration
Company Information Module
3 Tier Information Menu
Restaurant Menu Creator (text or PDF)
Google Maps integration
One click calling
Calendar of Events
RSS Feed Display
24/7 Live Update Control Panel
Special events and Promotions Module
Video Gallery
Image gallery
External URL connector
As one of the leading mobile app developers, Conversion Hub Marketing offers flexible app development and testing prior to app submission. This ensures product quality before it becomes public.
For distribution enquiries or Digital PR information, please contact us at Conversion Hub Marketing on +65 6844 3935
ABOUT CONVERSION HUB
Conversion Hub Marketing is a SPH Associate Company. We are an approved S6 Government vendor for projects up to $3 million and serves as Digital Advisor to the Direct Marketing Association of Singapore (DMAS). Conversion Hub delivers world-class online PR, Facebook marketing and seo services based on the premise of performance excellence and long-lasting results. Leveraging on their exclusive network of over 30 million social profiles and 25 thousand media points, we are the only agency to offer performance guarantees across all our marketing channels. Headquartered in Singapore, Conversion Hub combines a decade of digital experience in online sustainability and marketing expertise, serving brands and government institutions such as Philips, Bayer, Microsoft, SingTel, National Heritage Board, Prime Minister Office, Public Service Commission, National University of Singapore and many others.