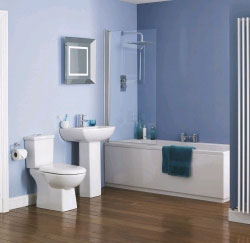 With the addition of the capability to shop products through the Facebook page fans are now able to stay updated on current design trends
Grimsby, North East Lincolnshire (PRWEB UK) 28 April 2013
Asturias Bathrooms have made it even more convenient and easy for you to shop through their extensive line of designer bathroom products. While it is possible to shop directly at the official website of Asturias Bathrooms the company has made it even more convenient to follow design trends and to shop accordingly. Their first-rate products can now be purchased through the streamlined Facebook Shopping app.
By visiting Asturias Bathrooms Facebook page it is possible to navigate through the variety of products available simply by clicking on the blue box that reads 'Shop' which reads 'Products' below it. This feature can easily be found directly on the homepage of Asturias Bathrooms. The added opportunity to shop directly through Facebook allows customers to stay updated on new products and relevant information as they become available through Asturias Bathrooms.
The company provides clientèle the capacity to shop via the Facebook Shopping App for everything from complete Bathroom Suites all the way down to smaller Bathroom Accessories and Mirrors. To make a purchase a customer can simply add the product that they find to their liking by placing it into the online Shopping Bag. At this point it is possible to then proceed to checkout much the same way that one would through a variety of other online shopping platforms such as eBay and Amazon.
Jonathan Lee speaking for Asturias Bathrooms added "With the addition of the capability to shop products through the Facebook page fans are now able to stay updated on current design trends, detailed product descriptions, and featured products while having the convenience of being able to then quickly view available products that may then be purchased." The resulting experience showcases the pinnacle of what social media has to offer the consumer. Asturias Bathroom sets a proper example at how a company can integrate social media to share more than just a product with the customer.
Along with the recent launch of the Facebook Shopping App, Asturias Bathrooms has brought a new top-tier product line of accessories from Smedbo to their ensemble that is now currently available through Asturias Bathrooms' official website. Smedbo Accessories comprise a broad range of indoor and outdoor elements that bring a clean, crisp, and modern decor to any bathroom, loft, spa, or pool.
About Asturias Bathrooms
Asturias Bathrooms is a company that is continually expanding. With 31 years experience in the field of providing trustworthy service and products for the different design and installation elements that encompass a variety of bathroom styles, Asturias Bathrooms have truly established a recognizable brand. Along with design, Asturias Bathrooms has grown a respectable reputation for delivering the most contemporary, highest-quality products that wield an exceptional combination of function and style.