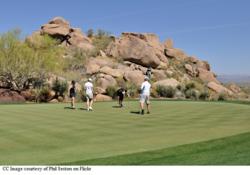 "Everyone wants to enjoy themselves when they try to fit nine or 18 holes into their day, but it should not be at the expense of others."
Atlanta, GA (PRWEB) April 29, 2013
Now that winter has finally moved on to the lands down under (congratulations to Adam Scott, by the way), there will be many people looking to dust off their irons and begin working on getting that elusive PGA tour card. With that in mind, the professionals over at Golf Balls Unlimited would like to suggest a few pieces of etiquette that no one should forget while on the course this Spring.
1) Be aware of one's speed of play: There are a couple of elements that need to be taken into account when considering one's speed of play. Are others constantly waiting for you to finish? Are you taking more than a couple of minutes to find a lost ball? If so, then you're probably the annoying ones on the course. Let the group behind you play through if need be. Don't waste any more time at the tee-box than you have to. Enjoy yourself, but also be considerate to others who are also trying to enjoy the weather and the course.
2) Be considerate of other group's field of senses: We've all seen it. That guy who crosses into another group's line of sight in order to find his ball, beer in hand, peering lazily on the ground trying to find that white spec in the sea of green. Or how about the person on their cell phone that you can hear from a parallel tee-box? Always be aware of how your actions might be impacting those who are trying to play around you, especially during their swing. Also, don't litter.
3) Never lose your temper: There is nothing more insulting to the course, the game, or those around you as someone who throws clubs, yells at the top of their lungs, or is a general eyesore to watch play. You risk damaging the course, the cart, the club, and other's concentration. You might think this makes you look like an invested golfer who is having a really off day, but it really just makes you look childish and immature. Never be this guy.
4) Leave the course in better shape than how you found it: This isn't always the easiest to abide by, but it should always be your goal. Everyone takes chunks out of the fairway, but you should always replace them. If you've left spike marks or a ball mark on the green, fix it. Bunkers should also be raked as if you worked for the course. Think about how you would like to see the hole as you approach it. Leave it better than that for the next person.
Everyone wants to enjoy themselves when they try to fit nine or 18 holes into their day, but it should not be at the expense of others. Golf is a gentleman's (gentlewoman's) sport, and should be treated as such. Respect the game, respect the players, respect the course, respect your equipment, and respect yourself. Here's to a fantastic season of play.
GolfBallsUnlimited.com was established over 10 years ago as an affordable and efficient way of getting the best in used, bulk, recycled and top quality golf balls for less. They also carry new golf gear and new golf balls at deeply discounted prices. Their goal is to provide every golf enthusiast with brand name golf gear at affordable prices. All purchases made on their website are processed and shipped from their warehouse facilities in Atlanta. For over a decade, they have established themselves as competitive players in the market with superior Customer Service being a corner stone of their business philosophy. All used golf balls sold on their site are collected from premier golf courses in the United States, gently cleaned and hand sorted. Their quality control is one of the best in the industry.
For more helpful articles related to golf please visit our our blog Addressing the Ball